The Battle for Apple's 50 Day Moving Average is About to Get Ugly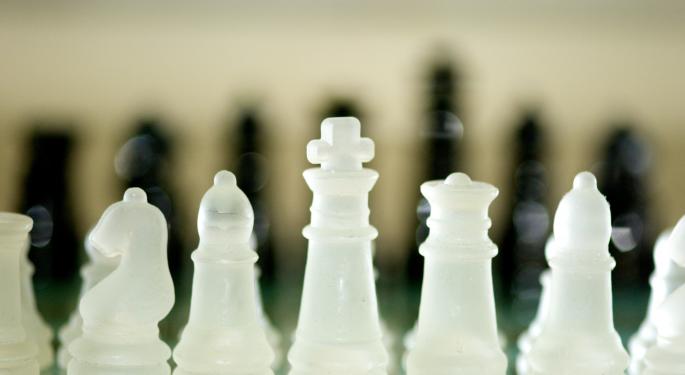 No, seriously, this time it might be for real.
With cautious optimism, it's time to proclaim that Apple (NASDAQ: AAPL) MIGHT be turning around. Let's not get too optimistic.
Apple is well known for its ability to crush any investor that places unguarded trust in it, but the bulls finally have a good argument.
Here's a depressing statistic: Up until Friday, Apple spent 113 consecutive trading days below its 50 day moving average. Closing at $461.91, that put the stock 0.79 percent above its 50 DMA. Impressive? Not really but breaking the 113 day streak makes it exciting for the bulls.
In a note to clients, going back to 1994, Bespoke notes that when Apple closed above its 50 day after being below that level for at least 75 trading days, the stock averaged a 6.6 percent return with positive returns four out of seven times over the next month. If these stats are correct, by April 22nd, Apple will close at $492.40.
That's a level above $480—the next level of resistance technicians will have their eye on. After that, it's $510, later, $546, and finally, the 200 DMA currently at $561 but let's not get ahead of ourselves.
The Fundamentals
If you're not much for all of the technical jargon, maybe the fundamentals will interest you. The truth is that the fundamentals, based on what we know right now, don't paint a picture of a bull run. Stories of decreased orders from its manufacturers, increased competition from companies like Samsung, and the lack of any game changing product have investors largely unexcited about Apple.
But all of the talk of raising the dividend, a stock buyback, or a special dividend (not likely) have traders bidding the stock up. In addition, the new Samsung phone had a less than stellar reception. It was viewed as an unexciting upgrade. You know, much like the last few iPhones
The BlackBerry (NASDAQ: BBRY) product launches were very BlackBerry. They got the "well, isn't that a cute phone," reception from the cell phone gurus when they needed a, "wow, this is incredible," review. Apple won't be hurt by either of these phones and for investors that's great news.
The Bear Case
Too much excitement over Apple often results in the licking of the wounds so let's give the bears a bit of attention. Technicians don't much care about a move that doesn't come with big volume. On Friday, Apple traded 14.1 million shares versus average volume of 18.7 million. That's 33 percent lower than the average. Looking at the past two weeks, volume has slowly decreased making technicians wonder if the rally has legs.
The bears would also point out that just because the BlackBerry and Samsung launches were nothing exciting, Samsung, and the Google (NASDAQ: GOOG) Android platform in general, are taking business from Apple. There's no fundamental reason to get excited about Apple for the long term right now.
Which side is right? This week will be a key indicator as the battle for the 50 DMA really heats up. Risk/reward doesn't favor jumping in Monday morning. Let the battle produce a trend before committing money. Don't fall into a bull trap.
Posted-In: Apple BlackberryNews Technicals Retail Sales Hot Tech Trading Ideas Best of Benzinga
View Comments and Join the Discussion!