Benzinga's M&A Chatter for Wednesday March 20, 2013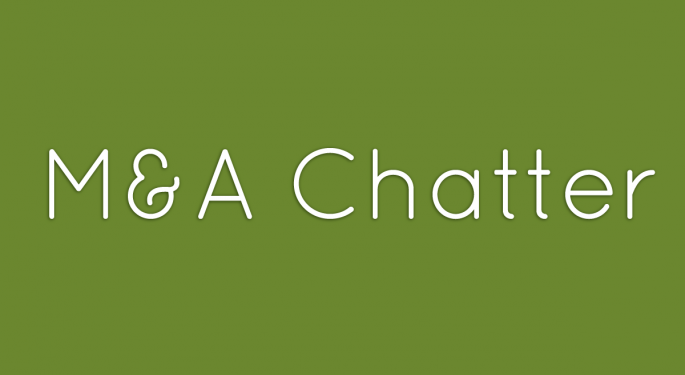 The following are the M&A deals, rumors and chatter circulating on Wall Street for Wednesday March 20, 2013:
Valeant Pharmaceuticals to Acquire Obagi Medical Products for $19.75/Share in Cash
The Deal:
Valeant Pharmaceuticals (NYSE: VRX) announced Wednesday that it has entered into a definitive agreement under which Valeant will acquire all of the outstanding common stock of Obagi Medical Products (NASDAQ: OMPI) for $19.75 per share in cash, which represents a 28% premium to Obagi's closing share price on March 19, 2013, the last trading day prior to announcement. The transaction is expected to close in the first half of 2013 and Valeant expects the transaction, once completed, to be immediately accretive to Valeant's cash earnings per share. The combination is expected to yield cost synergies at an annual run rate of at least $40 million within six months of closing.
Valeant Pharmaceuticals closed at $73.33 Wednesday, a gain of 2.5% on almost twice average volume. Obagi Medical Products closed at 19.73, a gain of 28% on 190 times average volume.
Hearing Renewed Chatter of Oracle Bid for Mellanox
The Rumor:
There was renewed chatter on Wednesday that Oracle (NASDAQ: ORCL) may be bidding to acquire the remainder of Mellanox Technologies (NASDAQ: MLNX) shares it does not already own. Oracle currently owns about a 10% stake in Mellanox.
A Mellanox spokesperson declined comment on the rumor, an Oracle spokesperson was not available for comment.
Mellanox Technologies closed at $55.20 Wednesday, a gain of 2.5% on lower than average volume.
Hearing True Religion Looking at Options Other than a Sale
The Rumor:
True Religion Apparel (NASDAQ: TRLG) is reviewing options in lieu of a sale of the company, according to Deal Reporter. The sale process has not been going well, according to sources. On October 10, 2012, True Religion announced it would explore and evaluate potential strategic alternatives available to the company, including a possible sale.
A spokesperson for True Religion was not avaiable for comment.
True Religion Apparel closed at $27.83 Wednesday, a gain of 2.5% on more than twice average volume.
Yahoo in Talks to Buy Up to 75% Stake in Dailymotion
The Rumor:
Yahoo is reportedly in talks with France Telecom-Orange to purchase a 75% stake in Dailymotion, according to the Wall Street Journal.
A spokesperson for the online video site declined comment on the report.
Yahoo closed at $22.09 Wednesday, a loss of $0.08 on average volume.
View Comments and Join the Discussion!