CPI Jumps 0.7% on Higher Gas Prices; Core Inflation Moderate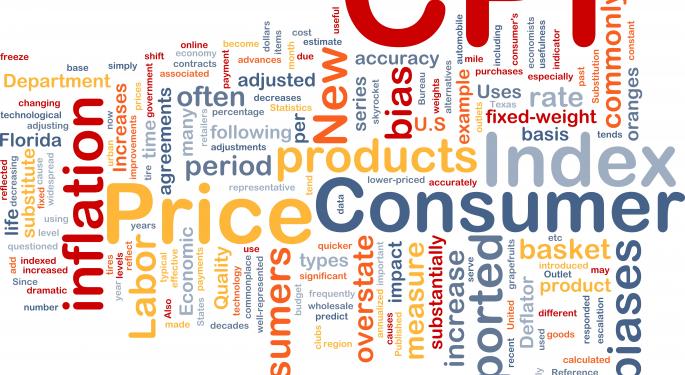 The Consumer Price Index for All Urban Consumers (CPI-U) increased 0.7 percent in February on a seasonally adjusted basis, the U.S. Bureau of Labor Statistics reported today. Gasoline prices were to blame, as core prices outside of food and energy posted a more moderate increase.
To many consumers chagrin, the gasoline index rose 9.1 percent in February to account for almost three-fourths of the seasonally adjusted all items increase. The indexes for electricity, natural gas, and fuel oil also increased, leading to a 5.4 percent rise in the energy index.
The food index increased slightly in February, rising 0.1 percent. A sharp increase in the fruits and vegetables index was the major cause of the 0.1 percent increase in the food at home index, with other major grocery store food group indexes mixed.
The index for all items less food and energy – the core rate of inflation – increased 0.2 percent in February. The indexes for shelter, used cars and trucks, recreation, and medical care all rose in February.
These increases more than offset declines in the indexes for new vehicles, apparel, airline fares, and tobacco. Some of these declines in prices in these latter categories reversed increases in January.
Over the past 12 months, the all items index increased 2.0 percent compared to a 1.6 percent increase for the 12 months ending January. The index for all items less food and energy also increased 2.0 percent over the last 12 months.
While the CPI is not the Fed's preferred inflation gauge, the 2.0 percent increase in core prices in this index is now at the Fed's two percent target. The energy index increased 2.3 percent and the food index rose 1.6 percent.
In a more forward-looking view, beyond today's numbers, what we see is that businesses are facing higher costs. We can turn to the Institute for Supply Management's twin surveys of manufacturers and non-manufacturers for more information.
Let's start at the top of the distribution chain, with the ISM Manufacturing Index. The ISM Prices Index registered 61.5 in February, which is an increase of five points compared to the January reading of 56.5. (Any reading above 50 indicates more cost increases.)
In February, 31 percent of respondents reported paying higher prices, eight percent reported paying lower prices, and 61 percent of supply executives reported paying the same prices as in January. Back in November, just 18 percent reported paying higher prices – but 15 percent reported paying lower prices. This means that manufacturers see more cost pressures.
Next down the distribution chain are retailers and wholesalers, which are included in the ISM Non-Manufacturing Survey. Prices paid by non-manufacturing organizations for purchased materials and services increased in February for the 41st consecutive month. ISM's Non-Manufacturing Prices Index for February registered 61.7, 3.7 points higher than the 58 reported in January.
In February, the percentage of respondents reporting higher prices is 31 percent, the percentage indicating no change in prices paid is 63 percent, and six percent of the respondents reported lower prices. A few months before, in November, only 11 percent reported paying higher prices while 17 percent reported paying lower prices.
Part of this reflects rising unit labor costs, determined by not just how much workers cost per hour, but also by how much they produce per hour, and is thus a function of productivity. Unit labor costs in non-farm businesses increased 4.6 percent in the fourth quarter of 2012, the combined effect of the 1.9 percent decrease in productivity and a 2.6 percent increase in hourly compensation.
At some point, companies might attempt to pass along those higher labor costs, unless they can introduce new productivity gains.
Posted-In: News Econ #s Economics Markets Best of Benzinga
View Comments and Join the Discussion!