Getting the Vatican's Financial House in Order a Big Job for the New Pope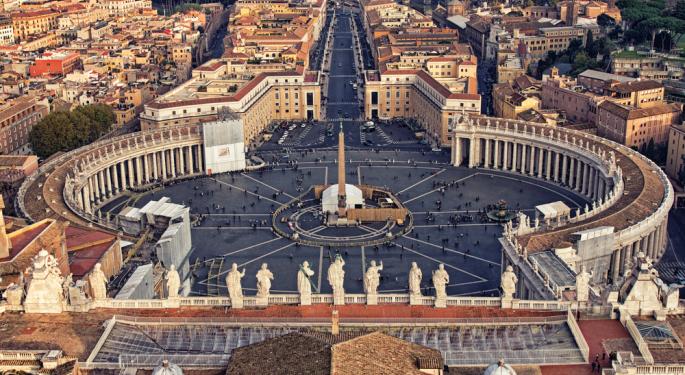 76-year-old, Cardinal Jorge Mario Bergoglio is now Pope Francis I and leader of 2.3 billion Catholics around the world. He is also CEO of a multibillion dollar religious empire with financial, rare art and real estate holdings.
It is unclear whether Pope Francis, who has no experience with the central administration of the Vatican, will be adept at tackling the massive deficit issues the church faces. In 2011, it ran a deficit of $19 million, the largest in years, according to CBS News.
The Vatican radio station and newspaper have both traditionally lost money and travel costs have escalated now that a papal world tour involves a huge entourage, complete with security detachment, stadium rentals, and translators.
Then, there are allegations of money laundering, poor transparency and failure to enact standards safeguarding against terrorist activity at the Vatican Bank, according to the National Post.
Vatican investment fund managers favor an ultraconservative, low-risk investing strategy, but it is rumored to have billions in physical gold, along with a vast portfolio of property holdings all over the world according to The Guardian. Excluding St. Peter's Basilica and the Sistine Chapel, the value of the holdings are reportedly worth nearly a billion dollars
Then there's the artwork, including works by Michelangelo and Raphael. The Vatican doesn't try to apply a fair-market value to its art collection, but if sold, the works would likely fetch billions more.
Historically, the Holy See has invested mainly in Italian industries. It has diversified its portfolio of stocks and bonds while limiting its stake in companies to less than 6 percent. Investments in the developing world have been limited.
Will Francis I attempt to ramp up Vatican investment strategy, particularly in the Americas given his "New World" roots?
This could help accomplish two important goals. First, it could help win favor with Latin America, an area of the world increasingly important to the growth and sustainability of the Catholic Church.
Second, increasing investment in companies in the Americas and on the American exchanges could allow the Vatican to reduce its recent deficits by taking advantage of the rapidly recovering American stock market.
What's clear is that it will likely remain unclear. The Vatican is largely secretive about its financial affairs—a practice that has landed it in hot water among Italian and European regulators.
Posted-In: Francis I Jorge Mario Bergoglio Real EstateNews Events Global Media General Best of Benzinga
View Comments and Join the Discussion!