An HIV Cure Is Great News For These Drug Manufacturers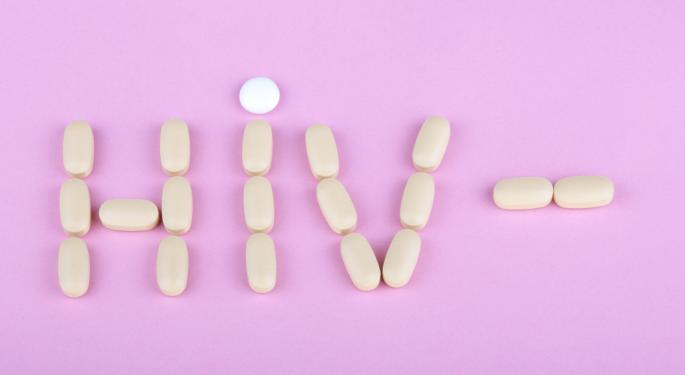 Sunday's announcement of an infant born with HIV being cured with treatment drugs may prove to be a 21st century landmark down the line.
The implications of this news could loom large for the manufacturers of HIV/AIDS treatment drugs whose efforts into finding effective treatments have finally gained traction over the first documented cure of the virus here in the United States.
With patents that don't expire for several years (and the option to prolong their release), the investment into HIV/AIDS treatment research will continue to pay off big in the coming years:
ViiV Healthcare
ViiV Healthcare is a joint venture between GlaxoSmithKline plc (NYSE: GSK) and Pfizer Inc (NYSE: PSE). The combination of lamivudine and zidovudine, branded as Combivir, was one of the two medications used in the cured baby's treatment.
Together, the drugs form a Nucleoside Reverse Transcriptase Inhibitor (NRTI) which blocks the action of reverse transcriptase, the enzyme HIV requires for reproduction.
Abbott Laboratories (NYSE: ABT)
The other treatment involved in the infant's HIV cure was Abbott Laboratories' Kaletra, a protease inhibitor (PI) that has been regarded as the best treatment by the US Department of Health and Human Services since 2006.
If Kaletra's successful performance can be replicated, expect this to be accretive to Abbott shares. The patent for Kaletra is scheduled to expire in 2016.
Merck. & Co. (NYSE: MRK)
According to Bloomberg, Merck is currently developing a drug that showed signs of hidden deposit removal in the early stages of HIV.
The drug was named by researchers during the Sunday announcement as one they continue to study in treatments. It is currently in Phase II of development as of November 1, 2012.
Johnson & Johnson (NYSE: JNJ)
Johnson & Johnson offers a PI of their own in Prezista and Intelence, an NRTI. The former was just approved in November of 2012. J&J also offers PROCIT, a useful treatment of anemia in HIV-infected patients when taken with other HIV medications.
Prezista and Intelence's patents are scheduled to expire in August 2014 and December 2020, respectively.
Gilead Sciences Inc. (NASDAQ: GILD)
Gilead is the largest manufacturer of HIV/AIDS treatments in the world, and sports a roster of medications.
Among these drugs are Atripla, a 2006 FDA-approved NRTI that combines Gilead's Truvada with Bristol-Myers Squibb's (NYSE: BMY) Efavirenz. Other NRTI's in Gilead's lineup are Emtriva, Viread and Complera, the latter recently approved by the FDA in August 2011.
Gilead recently settled a drug patent suit with Teva Pharmaceuticals (NYSE: TEVA) to avoid going to trial over Viread following Teva's move to begin sales of a generic in 2007. Per the settlement, Teva will begin selling a generic version of Viread in December 2017.
Atripla and Emtriva have patents that will expire in 2021, while Complera's patent is up in 2023.
Stribild is a integrase inhibitor, which recently gained approval by the FDA in August 2012.
Gilead currently has four other HIV/AIDS drugs in its pipeline, including a retroviral integrase inhibitor, a PK enhancer and a combination of both which have been submitted for regulatory approval.
Another NRTI is still in Phase II of development.


Follow Alex Biles at @disorderorder.
Posted-In: News Legal Events Best of Benzinga
View Comments and Join the Discussion!