Oscars 2013: The First Year Voters Got It Right?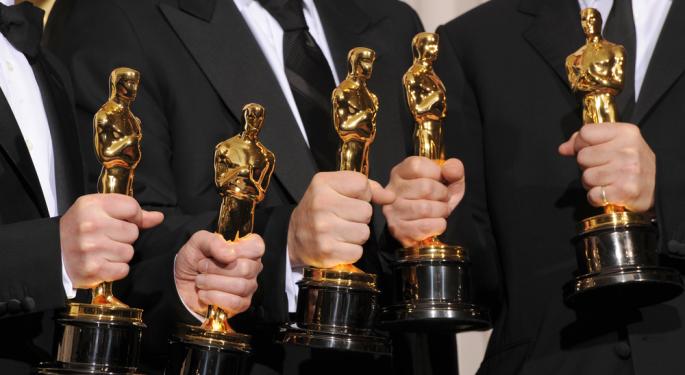 Best Picture and Best Adapted Screenplay went to Warner Bros.'s (NYSE: TWX) Argo. Best Actress went to Jennifer Lawrence. Best Song went to Sony's (NYSE: SNE) Skyfall. Best Animated Short went to Disney's (NYSE: DIS) Paperman. And the whole show was hosted by Ted and Family Guy creator Seth MacFarlane.
The producers of the 85th Academy Awards fought hard to earn higher ratings and secure a better-than-average male demographic. That effort seems to have paid off. According to TVByTheNumbers, the show acquired nearly 37 million viewers. In the key 18-to-49-year-old demographic, the Oscars rose from a rating of 11.7 (last year) to 12.1.
One could argue that the show was not perfect -- that was inevitable. While Lawrence deserved her Best Actress win, Naomi Watts was equally deserving (if not more so) for her powerful role in The Impossible. Ben Affleck, who has received mountains of acclaim for directing Argo, was snubbed by default because he wasn't nominated for Best Director.
Life of Pi was worthy of its nominee for Cinematography, but was it any more deserving than Argo, Skyfall, Lincoln or Django Unchained? The Avengers may have been too much of a comic book flick to win an award of this stature, but it should have been recognized. However, the film wasn't even nominated.
Even with those complaints, it is hard to fault the Academy's decisions. While there will always be good films that go unnoticed, this is the first year where virtually every winner deserved an award. Moviegoers would be hard-pressed to find a Best or Supporting Actor or Actress whose performance was lacking, or a winning film (from any particular category) that simply stunk.
This was not entirely due to the Academy's selections, however. Collectively, there were more award-worthy films released in 2012 than in most years combined. This gave Oscar voters a large pool of quality movies to choose from.
If there was any award that disappointed last night, it was Best Animated Feature. It's not that Brave did not deserve to win, but its competition was atrocious. Between the likes of Frankenweenie, ParaNorman and The Pirates! Band of Misfits, the Academy was all but forced to choose Brave. Wreck-It Ralph was also nominated, but the brilliant video game-inspired storyline was lost on most critics. While the Academy may have felt differently, it chose to honor Brave regardless.
Those who managed to stay awake long enough to see the credits roll were treated to a final song with Seth MacFarlane and Kristin Chenoweth. UInterview has published the lyrics, which includes a number of hilarious lines:
"Oh Bradley Cooper! Get your chin off the floor / Here's your silvering lining: You'll do Hangover 4."
Follow me @LouisBedigianBZ
Posted-In: Academy Awards OscarsNews Success Stories General Best of Benzinga
View Comments and Join the Discussion!