Forget Icahn/Ackman's Herbalife Argument, Rogers/Faber Chinese Debate More Crucial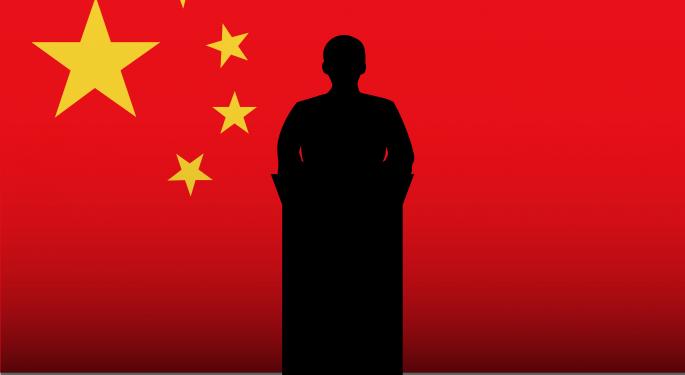 While investors continue to follow the latest developments in the ongoing hedge fund war on Herbalife (NYSE: HLF) between Pershing Square's Bill Ackman and noted activist investor Carl Icahn, another investor showdown (likewise set up by CNBC's Max Meyers) may have gone unnoticed.
Famed investor Jim Rogers, known for his legendary commodity calls, was targeted by market bear Marc Faber on CNBC's Futures Rundown show last October. Readers can watch the exchange here.
During the show, Faber asked Rogers what his take was on China. Rogers has been a noted bull on China for well over a decade, penning the book "A Bull in China" back in late 2008. For his part, Faber has been bearish on China, stating that the world's second largest economy is undergoing a massive credit bubble that could burst at nearly any time.
"Mister Jimmy Rogers has been so bullish about China for years and years and years," Faber began. "What is he saying about the Shanghai Composite which was 6100 in 2007 and is now at 2086...I'm just wondering how do you explain your bullishness about China and its poor stock performance?"
Rogers sidestepped the question by noting that his view of China was over the very long-term, as in decades.
"China is going to be the next great country in the world," Rogers explained. "But I've only bought China three times: 1999, 2005 and November 2008...I buy China when it collapses."
While the ongoing war between Icahn and Ackman might involve more personal insults, it's ultimately about the fate of just one stock. On the other hand, the contrasting views of Faber and Rogers on China could affect the entire global economy.
Both Rogers and Faber generally take an unorthodox economic view; they are both ardent critics of the Fed, for example. But China, as the world's second largest economy, has an immense effect on nearly every market.
If Faber is right, and China's economy is a credit bubble doomed to burst, the secondary effects could be severe. China, for example, surpassed the U.S. in terms of total energy consumption back in 2010. Should China collapse, the price of energy commodities could tumble.
China is also a major consumer of iron ore, with much of it coming from Australia. Short seller Jim Chanos -- who, like Faber, is bearish on China -- has bet against Australian iron ore company Fortescue, partially on the belief that a Chinese collapse would decimate the company.
The Chinese themselves seem to be mindful of the possibility of a credit bubble. Overnight, Chinese stocks had their biggest one-day drop of the year after the Chinese central bank took steps to mop up liquidity.
Yet, if Rogers is right, it could go the other way. Before he was questioned by Faber, Rogers emphasized the opportunity that agricultural commodities present.
China, with a population of over 1.3 billion people, is sure to strain global agricultural supply chains, particularly as more of its citizens emerge from poverty and demand better quality food.
Since that exchange in October, the trade has seemingly gone in Rogers' favor. After bottoming in mid-December, the Shanghai Composite Index has gone on a tear, rapidly rallying about 15 percent. In minutes from the Fed's last meeting (released Wednesday), members of the FOMC expressed the belief that the threat of economic trouble coming from China had diminished.
Is this recent Chinese reprieve just a temporary bounce back, or the start of a strong trend higher? Investors should be mindful of the debate.
Posted-In: Jim RogersNews Short Sellers Global Economics Success Stories Markets Trading Ideas Best of Benzinga
View Comments and Join the Discussion!