Office Depot Drops, OfficeMax Rallies on Wild Finish to Merger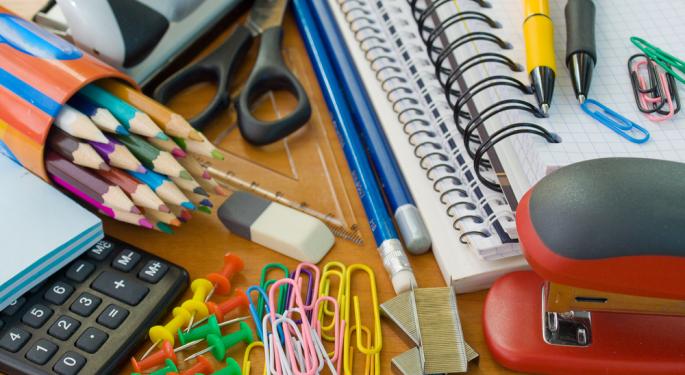 Office Depot (NYSE: ODP) announced that it had finalized its deal to acquire OfficeMax (NYSE: OMX) Wednesday. Shares of Office Depot dropped on the news, falling about nine percent, while shares of OfficeMax were just slightly higher.
The deal had been speculated on for some time. Shares of Office Depot rallied nine percent Tuesday, while OfficeMax shares rose 21 percent.
There was some confusion on the details of the deal early Wednesday. Buried in Office Depot's earnings report was a item stating that the companies had finalized their merger deal. However, the company rapidly retracted the report, saying that negotiations remained ongoing.
Then, less than an hour after retraction, Office Depot formally announced completion of the merger.
The Specifics
Under the deal, OfficeMax stockholders will receive 2.69 Office Depot common shares per share of OfficeMax common stock. OfficeMax will have the ability to declare and pay cash dividends of up to $131 million ($1.50 per share) before closing the transaction.
The new board of directors will have equal representation and governance rights from each company. An equal number of board members from each company will oversee the selection of a new CEO, as well.
One threat that is always present with such mergers is a culling of the current leadership. However, the companies plan to draw upon existing employees to form a new management team.
At this time, it is not clear what the newly-formed company will be called, nor are its marketing brands or corporate headquarters known as of yet. Currently, Office Depot is headquartered in Boca Raton, Florida and OfficeMax is based in Naperville, Illinois.
The deal is expected to close by the end of 2013.
Staples On the Downslide
On Tuesday, Benzinga noted that Staples (NASDAQ: SPLS) appeared to get a boost from the merger talk, perhaps due to speculation prices will rise as competition declines in the industry.
However, Staples' is on the downslide Wednesday, declining over one percent.
Market Reaction
Although Office Depot shot up nearly nine percent on first word of the merger, it has crashed back to Earth and is now down around five percent on Wednesday. Perhaps the specifics of the deal are not favorable to investors, leading to the reversal in fortune for the second-leading office supply retailer.
Yet, OfficeMax is still flying high on Wednesday. The stock is at its highest point since mid-April of 2011.
OfficeMax has had an erratic trading session on Wednesday, swinging between increases of four and 10 percent for much of the day.
Posted-In: News M&A Intraday Update Movers Best of Benzinga
View Comments and Join the Discussion!