Boeing Has Other Issues Despite Progress in Dreamliner Investigation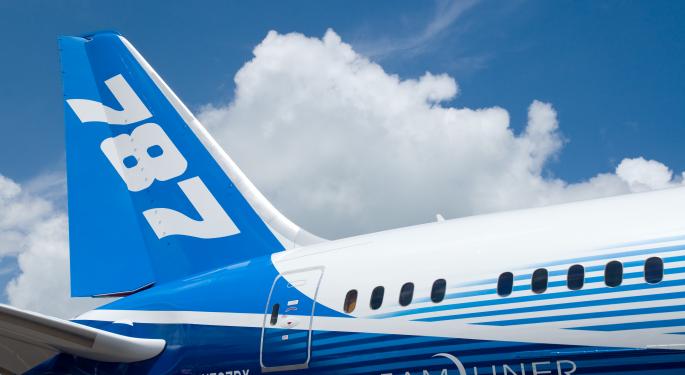 After five weeks on the ground, Boeing's (NYSE: BA) Dreamliner may finally have a solution to its battery issue, according to a Reuters report.
According to a source, "The gaps between cells will be bigger. I think that's why there was overheating," The lithium-ion batteries used extensively by the Dreamliner have already been identified as the problem, but Boeing (along with numerous agencies around the world) has failed to pinpoint the exact cause.
Two weeks ago, metallic dendrites, small fibers that form after repeating charging and discharging, were at the top of investigators' lists. These dendrites can cause the short circuiting that leads to a fire.
Reuters asked Kiyoshi Kanamura, professor at Tokyo Metropolitan University, about the battery issue. Kanamura stated that the logical fix is to install ceramic plates between each cell in the battery and add a vent to the battery box.
Reports emerged in India Wednesday that said Boeing believed the Dreamliner will commence flight again in early April 2013. A Boeing spokesman would only say, "Good progress is being made."
But early April doesn't solve the new problem that's quickly becoming another Dreamliner headache. The New York Times reported that since Boeing has refused to stop production, the company is running out of space to store the newly produced Dreamliner 787s.
The company is producing a little more than one aircraft per week but with the F.A.A. grounding, Boeing needs F.A.A. permission to fly the aircraft—something the agency isn't likely to grant strictly to overt a traffic jam.
According to a Boeing spokesman, "We have adequate space today in Everett to accommodate our production airplanes," but other reports show that it's likely more complicated than what Boeing is saying.
Boeing reportedly asked two of the largest commercial aircraft storage facilities in the nation for space to store some of its other airplane models in order to make room for the Dreamliner. The airfield next to Boeing's Everett, Washington production facility is filled with new 787s that have caused one general aviation runway to close, according to Matt Cawby, blogger and aviation reporter that observed the Boeing factory.
And if all of the Dreamliner woes weren't enough, Boeing faces labor disputes. On Tuesday, engineers (who have the job of investigating the Dreamliner problems) narrowly voted to ratify a contract that averted a possible strike,
Technical workers, which Bloomberg says are the liaisons between engineers and machinists, voted down the contract and authorized a strike at any time.
Over the past three months, despite the constant barrage of bad headlines and pictures of melted and charred batteries, Boeing's stock is only down three percent this year.
Posted-In: BoeingNews Wall Street Journal Rumors Events Media Best of Benzinga
View Comments and Join the Discussion!