American Eagle Flies High on Barron's Mention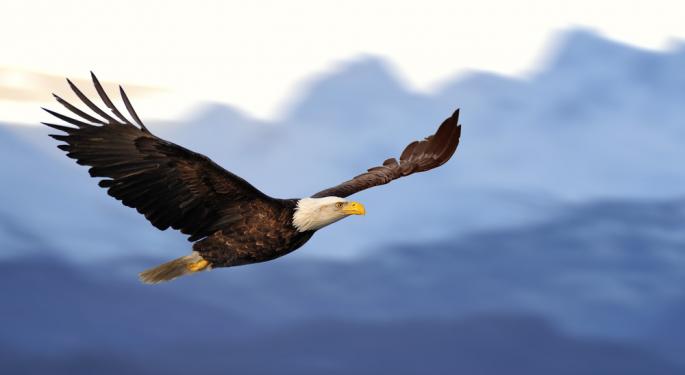 Once again, a stock has rallied on a mention in Barron's. American Eagle Outfitters (NYSE: AEO) is flying high after a feature article speculated that shares could be undervalued.
A focal point of the Barron's article is the performance of CEO Robert Hanson. According to Barron's, the Pittsburgh, Pennsylvania company has averaged a 75 percent increase in earnings per quarter since Hanson took the helm in January of 2012. Barron's notes that the company is expected to report a 63 percent gain in profit for the fiscal year ended on January 31.
Of particular emphasis is Hanson's inventory management skills. Barron's notes, "In the October quarter, sales rose 9.4%, year-over-year, to a record $910 million, while inventory fell 13%, a result that David Berman, head of Durban Capital, calls 'remarkable'."
According to Barron's, the teen outfitter has begun shipping more merchandise from Asia by air instead of sea. While costlier on the front end, this helps American Eagle maintain a timelier merchandise assortment, limiting heavy markdowns of outdated goods.
Barron's ultimately suggests the stock could soar if recent corporate initiatives improve operating margins, noting "Dana Telsey, of the Telsey Advisory Group, argues that a three-percentage-point increase in margins, to 16%, would result in annual earnings power of more than $2 a share, which could propel American Eagle's shares to $32, up 60%. Add a 2.2% dividend yield, plus the likelihood of more special dividends -- like the $1.50 a share the company paid last September -- and investors could enjoy returns exceeding 60%."
Another Self-Fulfilling Prophecy?
While Barron's isn't the only market mover, it carries a lot of weight with wealthy investors.
As Benzinga mentioned on February 11, the average Barron's reader holds $2,736,000 worth of securities. And, 96 percent of them have acted on information from the publication. As a result, Barron's impacts the decisions of a sizable amount of wealthy investors, and has demonstrated this ability on numerous occasions in the past.
To illustrate, consider the following recent examples:
VMWare is down 5.5 percent since Barron's said it wouldn't rebound on February 9.
Apple jumped nine percent the first trading day after Barron's said its shares were "cheap" on December 29, 2012.
Market Reaction
American Eagle has been remarkably consistent in the market, hovering in the high teens to low $20s for most of the past 11 months. It continues to do so Tuesday and currently rests a bit below $21.
American Eagle is up over one percent on Tuesday.
Posted-In: Barron'sNews Rumors Intraday Update Movers Trading Ideas Best of Benzinga
View Comments and Join the Discussion!