Not So Fast Best Buy, You Haven't Won the Showroom Battle Just Yet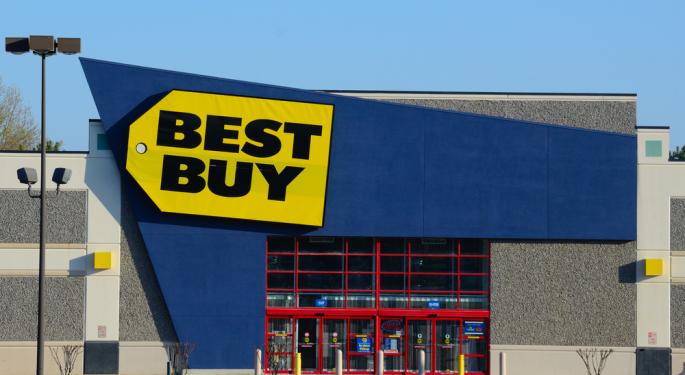 Best Buy (NYSE: BBY) is claiming victory over show-rooming. In a company press release the electronics retailer announced that it would price match selected online stores in addition to its longstanding policy of price matching local retailers.
Is it premature to claim victory in a battle that left it a fraction of the company it once was? It hasn't just lost the show-rooming battle, online retailers, most notably, Amazon (NASDAQ: AMZN) have crushed Best Buy. The stock is down 70 percent from its 2010 peak with a profit margin of negative two percent.
Amazon is up more than 100 percent since 2010 with margins that are nearly flat. There's no dispute that as increasing amounts of consumers have turned to the internet for shopping, traditional brick and mortar stores have been left behind.
Sears, (NASDAQ: SHLD) JC Penney (NYSE: JCP) and now even Walmart (NYSE: WMT) are feeling the pain of shifting consumer behavior. For years, traditional retailers have lobbied for an internet sales tax but to date, the idea has received little interest in Congress.
Last week, the Marketplace Fairness Act was introduced. The bill mandates that online retailers charge sales tax on all purchases. It's estimated that states collectively lose more than $23 billion in tax revenue as a result of online purchases, according to CNET.
But would an internet sales tax restore retailers like Best Buy to their former glory? Independent Retailer reports that about half of all shoppers use their smartphones to gather information about what they see in stores and 33 percent search for better prices.
Although there is some fine print with Best Buy's announcement, it's largely customer friendly. The company only matches the prices of certain online retailers but retailers like Amazon, Sears, Staples, (NASDAQ: SPLS) Frys, and Newegg all make the list.
But to say that the show-rooming war is over is premature. First, how will this affect margins? Can Best Buy compete with retailers like Amazon that don't have more than 1,000 retail locations? Second, will Best Buy advertise its new policy or will consumers have to ask for the match?
Anybody who has shopped at Best Buy recently knows that the friendly sales staff is, at least to some degree, a thing of the past. If the policy is confined to those who ask for it, how much will price matching really help?
Investors are clearly optimistic. Best Buy closed up more than seven percent in Friday.
Posted-In: Amazon.com best buy sears Staples WalmartNews Events Best of Benzinga
View Comments and Join the Discussion!