WATCH: The 5 Most Epic Speeches by Presidents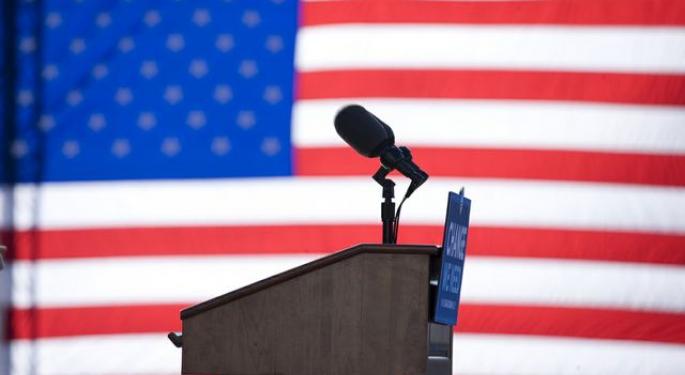 In honor of Presidents Day, Benzinga gathered five of the most epic speeches by former Commanders-in-Chief that we could find on YouTube. Though by no means definitive, this list highlights our presidents in their finest hour, Democrats and Republicans alike.



1. Dwight Eisenhower, Farewell Address, 1961
In this prescient speech, Eisenhower warns the country of the increasing influence of war profiteering, introducing the term "military-industrial complex" into the American lexicon. At the same time, he urges vigilance in dealing with communist threats.



2. John F. Kennedy, Inauguration Speech, 1961
"Ask not what your country can do for you!" Kennedy's inaugural speech is gushing with a call for unity, as the newly-elected president speaks of forging alliances, exploring space and eradicating disease.



3. Ronald Reagan, "A Time for Choosing," 1964
Reagan made plenty of memorable speeches during his presidency, but this stump speech for Barry Goldwater's candidacy is this writer's favorite. Echoing the words of economist Friedrich Hayek, Reagan lambasts central planning, foreshadowing the economic liberalization the would characterize his presidency.



4. Lyndon B. Johnson, "We Shall Overcome," 1965
Johnson gave this powerful speech in front of Congress in 1965, the country marred by a series of race riots and a deadly incident in Selma, Alabama. In the speech, Johnson calls for Americans to unite in the cause of equal rights for all.



5. Franklin D. Roosevelt, Pearl Harbor Speech, 1941
Following the surprise attack on the Pearl Harbor Naval Base on December 7, 1941, President Franklin D. Roosevelt addressed the nation in this banner speech the next day, in which he declared the 7th a "date that shall live in infamy." In the radio speech, Roosevelt asked Congress for permission to declare war (surprise!) on Japan, and roused the spirit of the nation, resulting in millions enlisting in the Armed Forces in the months to come.


Follow Alex Biles on Twitter at @disorderorder
Posted-In: News Politics General Best of Benzinga
View Comments and Join the Discussion!