Euro Has A Rough Road Ahead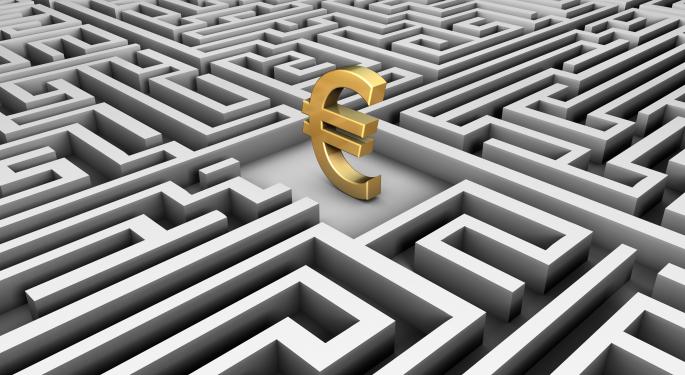 The euro began the week on a low, trading at 1.3326 at 8:22 GMT on Monday morning. The common currency is still regarded cautiously after GDP data last week showed the region was still deep in recession at the end of 2012.
After major eurozone economies like France and Germany contracted at a higher rate than expected in the fourth quarter, many were left wondering if the currency's recent strength was based on any fundamental economic factors.
The region's shrinking economies also opened the door to speculation that the European Central Bank would cut interest rates at its next monthly meeting in March.
Although the data caused the euro to plummet, the information is in line with ECB President Mario Draghi's estimation that the eurozone won't see any significant signs of recovery until the second half of 2013.
Moving forward, the euro has a rocky path ahead as Italian voters head to the polls at the end of the month for the country's elections.
After former Prime Minister Silvio Berlusconi moved forward in the polls, many began to view the election as a threat to the country's stability. Berlusconi's previous run as Prime Minister left the country in financial ruin, and his return to power threatens to undo much of the country's progress.
Also hanging over eurozone leaders' heads is a decision about Cyprus' bailout terms. The island nation will wrap up elections this month, after which the country's bailout will be decided.
According to the Wall Street Journal, the nation is seeking 18 billion euros in order to stabilize its banks, which were hit hard by the debt restructuring last year in Greece. However, many within the eurozone have criticized Cyprus, saying that its involvement with organized crime and money laundering makes it ineligible for rescue funds.
As the region's elections come to a close, investors will have their eyes on eurozone talks regarding the bailout, as any wrong move could send the bloc on a downward spiral.
Posted-In: News Commodities Forex Global Markets Best of Benzinga
View Comments and Join the Discussion!