Are Obama's Recent Comments a Death Sentence for the Penny?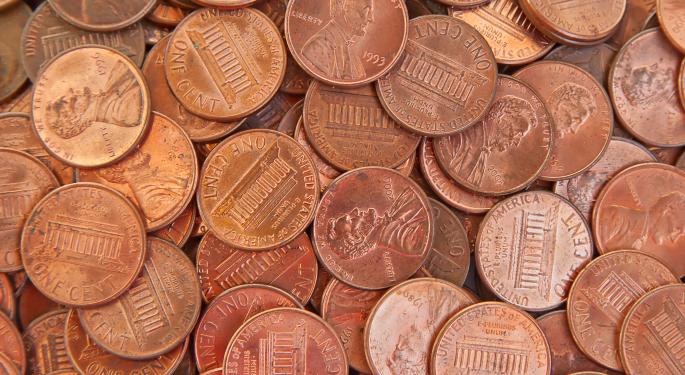 Canada did it. So did Australia, Israel, Great Britain, the Philippines, Hong Kong, the Netherlands, Singapore, Mexico and many others. What's taking the United States so long to get rid of the penny?
In an online chat sponsored by Google, President Obama appeared to be in favor of getting rid of the not-so-useful coin.
He said, "This is not going to be a huge savings for government. But anytime we're spending more money on something that people don't actually use that's an example of something we should probably change."
In 2006, Rep. Jim Kolbe introduced The Legal Tender Modernization Act. The bill would mandate the rounding of all transactions to the nearest 5 cents, but the bill failed to pass. One problem might be that few people would round down and those few pennies saved each day add up to big savings throughout the year.
The Penny is Expensive
Keeping the penny is downright silly, say the penny-killing proponents. And they have good reason.
In 2011, the U.S. Mint reported that it cost 2.41 cents to make a one-cent penny. According to Coinflation.com, the penny has two times more metal value than purchasing power. This means that if it were legal to melt down pennies for profit, a person could unlock twice the penny's value. What's holding people back from melting the coins? A maximum $10,000 fine and up to five years in jail.
It turns out the nickel is even worse. It costs 11.2 cents to produce a nickel that is worth only five cents. Not exactly a moneymaker like all those collectible coins the mint manufacturers.
In 2012, President Obama asked the U.S. Mint to reduce the $100 million annual cost to produce pennies and nickels, but that is far from easy. According to CNN, administrative costs for each penny are about 0.6 cents—leaving only 0.4 cents to purchase raw materials.
In 2011, the mint paid an average of 1.1 cents for the metal for each penny. Regardless of the changes, it's hard to conceive a plan where the penny will cost less to produce than its face value but even that isn't why so many want the penny to become part of American history.
Nothing costs a penny anymore. The days of buying bubble gum outside the local Kmart are gone. Pennies are also heavy and take unnecessary employee hours to count. In fact, the United States military stopped using the penny more than 30 years ago at all military bases, according to the Los Angeles Times. Why? Because they are "too heavy and are not cost-effective to ship," according to an army spokesman.
Sure, there are people that say getting rid of the penny is a slap in the face of American history. Abraham Lincoln would no longer be in the pockets of every American, but the chances of a revolt are small. In 1857, the United States got rid of the half cent and there was no major American uprising. (Other than the Civil War four years later.)
No Plans to Say Goodbye
For those in love with the penny, there's no need to worry. Obama's recent comments came with the disclaimer that there were bigger things on his mind than an assault on honest Abe. For now, those penny hoarders who are saving up thousands of pennies will have to keep saving them. The day of a mass penny meltdown is still far into the future.
Posted-In: Barack Obama Jim KolbeNews Politics Events Economics Markets General Best of Benzinga
View Comments and Join the Discussion!