Eurozone GDP Suggests the Crisis is Far From Over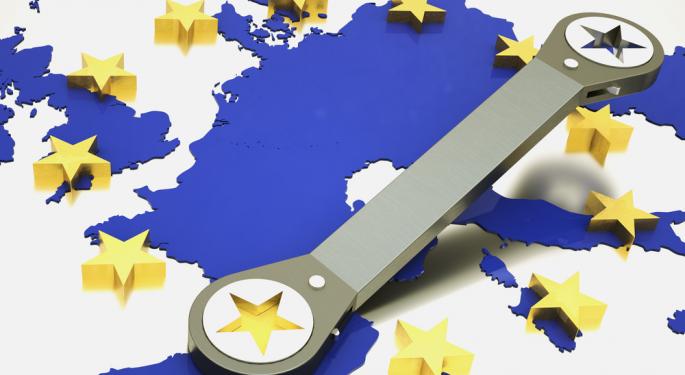 The euro continued to fall on Friday morning as worries about the region's economy deepened. The common currency traded at 1.3335 at 9:20 GMT on Friday after poor GDP data stoked fears that the eurozone recovery was not as strong as the currency's recent rally suggested.
GDP figures for the fourth quarter of 2013 painted a dismal picture for the eurozone. Both France and Germany suffered contractions greater than original estimates. The data surprised analysts, and showed investors that southern European countries weren't the only economies suffering in the current climate.
The region's GDP as a whole was even more disappointing, and showed a 2.3 percent drop in GDP during the fourth quarter. The figure shows that the eurozone economy contracted at its quickest pace since early 2009, the height of the world recession. With such poor figures, many are questioning the EU's fiscal austerity approach to promoting growth and business confidence.
While most still believe the eurozone will recover in late 2013, some analysts have their doubts. According to the The Wall Street Journal, many are not convinced that the financial recovery is linked to the region's real economy.
The GDP figures are just one example of contradicting information regarding the eurozone's progress. While sentiment and market prices have soared, economic factors like GDP, exports and unemployment have been plummeting.
Thursday's data underscored fears that southern countries like Spain and Italy will become unstable as conditions continue to worsen and social and political unrest threaten to tear the already fragile economies apart.
However, one of the most worrying factors from the report was that falling GDP wasn't localized in the south, but had spread to some of the blocs largest and most powerful northern economies as well. Moving forward, investors will be keeping a keen eye on developments in key economic factors like unemployment for signs of improvement.
Posted-In: News Commodities Forex Global Markets Best of Benzinga
View Comments and Join the Discussion!