RIM Co-Founder Jim Balsillie Dumps Remaining Stock, BlackBerry Plunges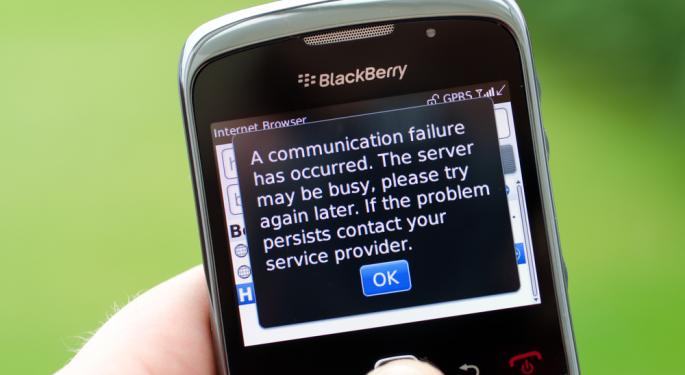 Editor's Note: This article previously contained inaccuracies that have been corrected: The article stated erroneously that RIM was founded in 1984; further, the article may have misconstrued the circumstances under which Lazaridis and Balsillie resigned.
BlackBerry's (NASDAQ: BBRY) co-founder Jim Balsillie has dumped his remaining stock in the firm. Shares plunged in the early hours of trading on Thursday, before correcting later in the session.
The Waterloo, Ontario firm (that recently changed its name from Research in Motion to BlackBerry) was originally founded in 1984 by Mike Lazaridis and Doug Fregin. Former Co-CEO Jim Balsillie was recruited in 2002. That year firm made history with the release of the first true smartphone.
However, as smartphone technology advanced, Blackberry gradually faced increasing competition from the likes of Apple's (NASDAQ: AAPL) iPhone and, later, Google's (NASDAQ: GOOG) Android operating system. While Android has grown exponentially over the past few years, Blackberry has faded into an abyss -- particularly in the US.
Both Balsillie and Lazaridis stepped down from their roles as co-CEOs in January of 2012.
Two months later, Balsillie resigned from his position on the company's board of directors after a weak earnings report. With that, the man who co-founded one of the most popular tech companies in the modern era severed his final direct tie to Blackberry.
Balsillie's exit didn't bring an immediate turnaround. Blackberry's U.S. market shared dropped to 1.6 percent from August through October of 2012 as compared to the same period in 2011, down from 8.5 percent. Similarly, the company's market share dropped from 19 to eight percent during the period.
BlackBerry has been on thin ice on its home turf in Canada. Android exploded to take a significant lead at 36 percent while iPhone holds the second place ranking at 29 percent. BlackBerry has dropped to third at 27 percent.
Further fueling the downslide, BlackBerry's market share in Spain dropped from 24 percent to three percent during the same period as compared to 2011, while dropping from nine to three percent in Brazil and 16 to seven percent in France, as notes BGR . Importantly, the firm has depended on the Latin American and Mediterranean markets to remain afloat, given its declining popularity in North America and the U.K. as well as its weak performance in China and India.
Now, after a somewhat successful stock performance over the past month, BlackBerry has dropped in trading on Thursday, apparently on word of Balsillie's dumping of shares. The company had been riding a wave of market success, largely on buzz about its latest Z10 device. However, it has traded down as much as around six percent on Thursday.
As of this writing, Blackberry has recovered a bit and is down around 0.5 percent.
Posted-In: Jim BalsillieNews Management Insider Trades Intraday Update Movers Tech Best of Benzinga
View Comments and Join the Discussion!