Hundreds of Students Gather at MHacks to Create, Innovate and Solve Problems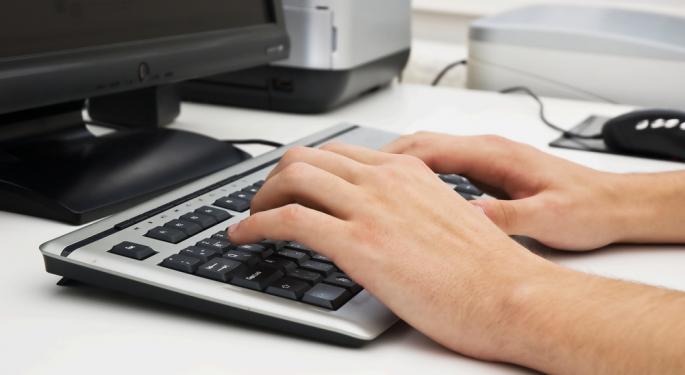 From Purdue University to the University of Toronto and many more, hundreds traveled to Ann Arbor, Michigan for a chance to compete at the fist international MHacks event. Co-hosted by Facebook (NASDAQ: FB) at the University of Michigan, MHacks 2013 drew hundreds of eager hackers from all over the United States and Canada.
"We have over 500 university students that have been brought to University of Michigan's campus," Daniel Friedman, Director of Fundraising for MHacks, told Benzinga. "In the span of the 36 hours, they're here to build Web and mobile applications, so they're essentially programming the whole time. They form teams of typically two to four people, and after the 36 hours they're going to present to a panel of judges in order to win prizes and awards."
Friedman, who is a senior at the University of Michigan, boasted about the opportunity that students will have to showcase their work.
"We're setting up a room where every hack is going to have its own table," he said. "People can go around and essentially showcase all their hacks to the different sponsors and judges. From that expo showcase, the top 10 hacks will be chosen. Those top 10 will be presented to everyone, and we'll be awarding the top three jury grand prizes. Facebook is giving away $1,500 for the top prize, and I believe the top three all have interviews with three venture capital firms, including Lightbank and Detroit Venture Partners."
To design a great program that really stands out, Friedman recommends that hackers develop something that people can actually use.
"Something that would help out the common man consumer," he said. "We're not really pitching to enterprises as much as consumers here at the hackathon, so I think something for the consumer."
Next, hackers should create a program that actually works -- and one that solves a real problem. "When we look at it, the companies that survive and are able to have a sustainable competitive advantage are the ones that are able to innovate and actually solve people's problems," said Friedman. "Whether putting that at a lower price point or differentiating their product to make it useful above a competitor or starting something really new and creating a market for that.
"I think that really solving the problem is the main testament to will this hack survive and can they build something of good use that will be judged well and can continue on through a startup or a business."
Finally, hackers should brace themselves for a nearly sleepless event.
"We had an open nap room in the basement where we had a few airbeds, blankets, pillows, things like that," said Friedman. "Probably about 200 people will literally fall asleep on their desk for a few hours. But we have Red Bull coming in, food, energy drinks, so we're going to keep them as awake as possible, because at the end of the 36 hours, there's going to be some great hacks. You don't want to sleep through that."
"If they can get it done in 36 hours, have something ready, create something from start to finish, that's the best way that they're gonna win the prize and fit the rules best," Friedman added.
Follow me @LouisBedigianBZ
Posted-In: Daniel Friedman MHacksNews Success Stories Tech Best of Benzinga
View Comments and Join the Discussion!