Who's the True Super Bowl Favorite? 15 Big Shots Unveil Their Predictions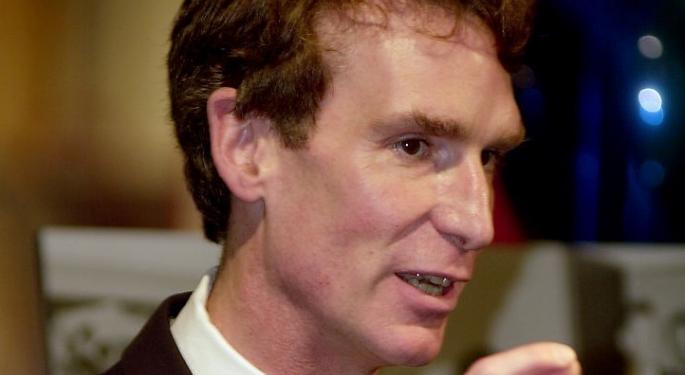 What better way to mentally prepare oneself for the Super Bowl than some friendly betting? With the matchup right around the corner, Benzinga decided to check out the predictions of 15 of our favorite people. According to Vegas Insider, the San Francisco 49ers are 4-point favorites to defeat the Baltimore Ravens. Did our cast of stars and notables follow suit with Vegas? Check out their predictions below!
Who?
Prediction
Comment

Rosanne Barr
Actor/comedian

31-27
49ers

"The impartial hardcore NFL analyst "app" in my brain says: 49ers, 31, Ravens, 27. But, hey, I'm no expert; so don't bet the ranch!" Source.
(Photo: Wikipedia)

Mark Cuban
Owner, Dallas Mavericks

28-16
49ers

"Because I hate the Ravens just like every kid from Pittsburgh does." Source.
(Photo: Flickr :: mil8)
Ronald J. Daniels
Johns Hopkins University President

35-24
Ravens

"With a respectful nod to Baltimore's legendary poet Edgar Allan Poe, my prediction is: To the 49ers, quoth the Ravens, 'Nevermore.'" Source.
(Photo: Flickr :: badgerworks)

John Kerry
U.S. Senator (D - Mass)/incoming Secretary of State

27-21
49ers

"As a Patriots fan, part of me wishes they could both lose. But I have to move on." Source.
(Photo: Flickr :: cliff1066a_c)

Tracy Morgan
30 Rock actor/comedian

6000000-2
Ravens

Source.
(Photo: Flickr :: david_shankbone)

Bill Nye
Science Guy

31-24
Ravens
"The Ravens are more explosive; they pass more. They hit a little harder than the 49ers; they will create a couple of big plays on both sides of the ball." Source.
(Photo: Seattle Municipal Archives)
Bill O'Reilly
FOX News Host
24-17
49ers
"49ers' offense will move the ball and control the clock. Ravens will turn the ball over twice." Source.
(Photo: Flickr :: World Affairs Council of Philadelphia)
Haley Joel Osment
Actor
28-24
49ers

"San Francisco's recovery from a 17-point deficit last week convinced me that they have the will to pull out a victory down the stretch." Source.
(Photo: Wikimedia Commons)

Pat Robertson
Reverend
35-27
49ers
"My heart goes with the Ravens, but I believe the 49ers have too many star linemen for Baltimore to prevail." Source.
(Photo: Flickr :: dno1967b)

Martin Schulz
European Parliament President

24-14
49ers

"I

t's a view from Europe. I think it will be a great match where experience will count. The 49ers will drive home advantage in 4th quarter. Both teams had a brilliant season." Source.
(Photo: Flickr :: SPD-Schleswig-Holstein)

Arnold Schwarzenegger
Actor/former California Governor

27-23
49ers
"Got to go with California this year!" Source.
(Photo: Flickr :: jurvetson)
Nate Silver
New York Times statistican/2012 election fortune teller
49ers
"The Ravens, despite all the hype surrounding Ray Lewis, allowed a rather pedestrian 21.5 points per game this year. The 49ers also have the better offense." Source.
(Photo: Wikipedia)

Donald Trump
Businessman/"The Apprentice"

24-21
49ers

"Great defense." Source.
(Photo: Flickr :: Boss Tweed)
Adam West
Batman actor
24-21
49ers
"This may be west coast wishful thinking but I think it'll finish 24 to 21 favor of the Niners." Source.
(Photo: Flickr :: Alan Light)
Alan D. Wilson
McCormick CEO
24-17
Ravens

"I'd expect at least one touchdown from each team from 'big plays.' Either a long pass or run from the play makers, but the Ravens win." Source.
(Photo: Flickr :: Abhijit Tembhekar)
Posted-In: News General Best of Benzinga
View Comments and Join the Discussion!