Anheuser-Busch InBev Already Owns Hundreds of Beers. Why Not a Few More?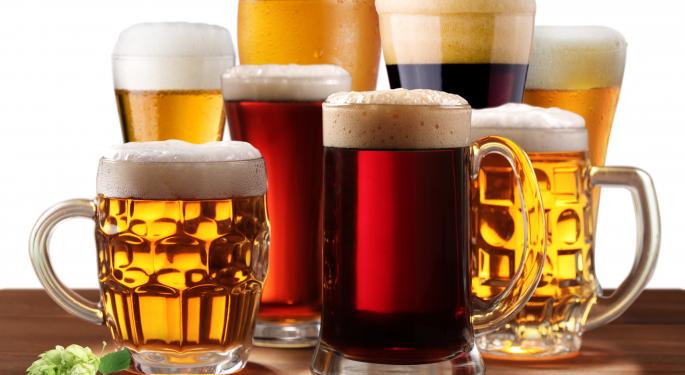 Anheuser-Busch InBev (NYSE: BUD) was hoping to score a buyout of the half of Grupo Modelo it didn't already own but the U.S. Justice Department filed a lawsuit seeking to stop the $20.1 billion deal, saying it would lessen competition in the U.S. beer market.
The Associated Press reported all this Thursday.
During the week of one of the year's biggest beer-drinker holidays, the Super Bowl, the Feds challenged a deal that would have Anheuser-Busch controlling the 200 brands of beer it currently makes plus 8 brands made by Mexico's largest beer producer, Grupo Modelo, including the wildly popular, Corona brand.
Despite the huge number and variety of beers in stores, two companies dominate the U.S. market.
Anheuser-Busch InBev, controls 47 percent with names like Budweiser and Stella Artois. The No. 2 slot is held by SABMiller Plc and Molson Coors Brewing Co. (NYSE: TAP), in a joint venture with a 28.4 percent market share, according to Beer Marketer's Insights.
This market dominance would seem to give the big companies the power to raise prices. However, when they did, the smaller Modelo, with its popular Corona beer, often refused and took market share, the Justice Department said, according to a Reuters report.
InBev, in a statement, said that the Justice Department's decision to sue to stop the deal was "inconsistent with the law, the facts, and the reality of the market place."
"We remain confident in our position, and we intend to vigorously contest the DOJ's action in federal court," the statement said.
The company, however, said that it no longer expected the deal to close in the first quarter of 2013.
InBev created an agreement under which it would sell Modelo's 50 percent stake in Crown Imports, its U.S. distributor, to Constellation Brands Inc. (NYSE: STZ). Constellation was already Modelo's partner in Crown.
Anheuser-Busch InBev said that selling Modelo's stake in Crown to Constellation ensured that it would not be increasing U.S. market share by acquiring Modelo.
The Justice Department wasn't buying.
The Boston Globe reported that DOJ Assistant Attorney General, Bill Baer, in an emailed statement, said, "If ABI fully owned and controlled Modelo, ABI would be able to increase beer prices to American consumers."
The market wasn't buying either. Literally.
Trading in Constellation Brands was halted briefly after dropping 21 percent. The stock closed down 17 percent Thursday at $32.36. Anheuser-Busch InBev closed down $5.54, almost 6 percent at $88.60. Grupo Modelo fell 6.5 percent on the Mexican exchange.
View Comments and Join the Discussion!
Posted-In: Anheuser-Busch InBev Grupo Modelo molson coorsNews Events Best of Benzinga