VF Corporation Tries to Ensnare Billabong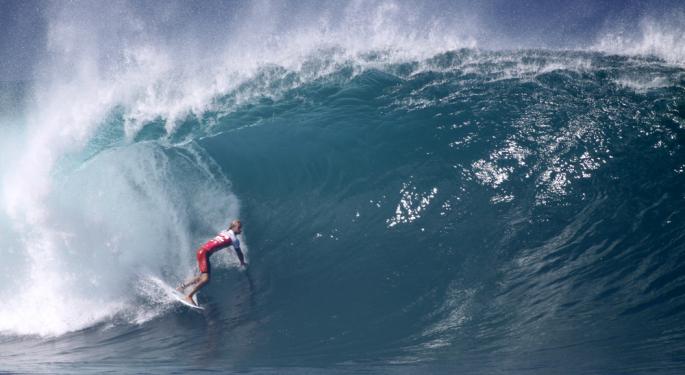 Billabong International (ASX: BBG), best known for their surf apparel, was offered $556 million USD recently in a takeover offer by VF Corporation (NYSE: VFC) and Altamont Capital Partners. This counter offer matches the current offer out there from former director Paul Naude and Sycamore Partners.
M&A is always a hot topic and the competition of a target tends to get a closer look off this kind of headline action. While Billabong sales have not been noteworthy, industry trends have been! Shares of the Australian firm have been in a slump due to weak sales, but consolidation in the retail sector is rather bullish. Most investors are limited to domestic equities as trade-able securities, so how can a trader play this news?
There is some playable pin action in the great United States of America. Action sports competitor Quiksilver Inc. (NYSE: ZQK) has seen its shares rage over 67 percent from mid-December until now. The rally is despite mixed analyst action. In recent news, Piper Jaffray took ZQK down to a neutral, but kept its $4.00 price target. Goldman Sachs also recently increased ZQK's trice target to $6.50 and rating to a buy. ZQK is a great vehicle to play the action sports retail sector.
In ZQK fundamental news, the company recently replaced its CEO. Investment bank Goldman Sachs liked the change in leadership. They indicted that the new CEO brings a unique view of the industry to the firm…with product and operational experience. This will hopefully lead to greater margins and better EPS.
The short interest in ZQK is thought provoking. Traditionally speaking, a small cap trendy cyclical stock would have a significant short interest in a sluggish economy. This is however not the case with ZQK. Perhaps Wall Street is staying away from a brand and culture that they are not familiar with, because ZQK only has a four percent short interest.
The deal has yet to be officially inked, but VFC's portfolio of brands is a great indicator that they are very serious with their offer. VFC owns brands like Reef (another surf brand), Lee, Nautica, The North Face, Vans (a skate brand) and Wrangler to name a few. Billabong seems like it would fit right onto the portfolio, but only time and price will tell as this potential bidding war plays out.
If a bidding war drags out, shares of ZQK will probably benefit, so fundamental news about this deal is vital to know. Action sports retail stocks are rather small market cap wise, so they can be volatile. Perhaps if one was inclined to trade this news, VFC and ZQK are U.S. listed securities that relate to the topic.
Follow me @Mark_Benzinga.
Posted-In: Altamont Capital Partners Goldman Sachs Paul Naude Piper JaffrayM&A News Management Trading Ideas Best of Benzinga
View Comments and Join the Discussion!