German Economy Down, But Not Out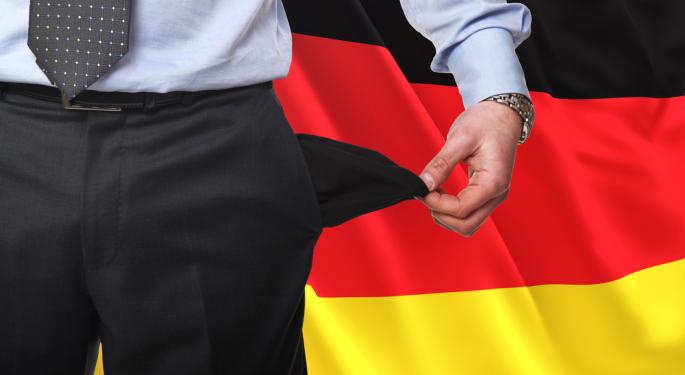 The euro held steadily below $1.34 on Thursday morning, even as Europe's largest economy showed signs of slowing. The commodity traded at 1.3342 on Thursday morning.
Data from Germany showed the power house economy shrank in the last quarter of 2012, leaving little hope that the eurozone economy as a whole expanded. Germany has remained largely unscathed throughout the eurozone's financial crisis, but it seems the recession that has taken hold of most of Germany's peers is starting to affect the country's economy.
According to the Wall Street Journal, after growing at a rate of 3 percent for two years, the German economy expanded just 0.7 percent in 2012. The country's GDP also fell by 2 percent over the course of the year, or 0.5 percent in the fourth quarter.
The poor numbers in Germany are worrying for the eurozone as a whole, since the German economy was propping up the currency. However, most analysts believe the contraction in Germany will be short-lived as other economic indicators show the country will recover.
The purchasing managers' index showed an increase in business activity for the first time in eight months, a promising signal for the future. Economists also predict exports to rise in the coming year as US and Chinese economies gradually recover.
The outlook for 2013 isn't all roses though; the German government has cut its economic growth forecast from 1 percent to 0.4 percent for 2013. The contraction in 2012 meant a weak start to 2013 and although most are optimistic that the economy will improve, it is expected to be a gradual recovery.
Posted-In: News Commodities Forex Global Markets Best of Benzinga
View Comments and Join the Discussion!