Nissan Brings More Electric Vehicle Component Production to U.S.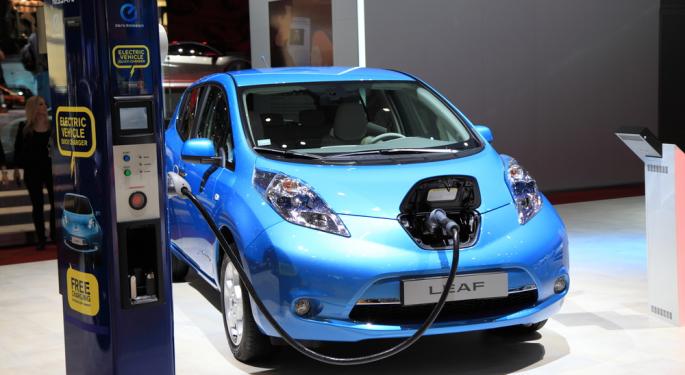 Editor's Note: Story previously said Ford (NYSE: F) did not offer an all-electric vehicle. Ford offers an all-electric version of its Focus, which has been available since the end of 2011.
Nissan Motor Co. (OTC: NSANY) announced Tuesday, January 15 that it will diversify production in a plant that has been exclusively devoted to manufacturing components for its all-electric Leaf car. The factory is in Smyrna, Tennessee and sits next to Nissan's largest U.S. auto assembly plant.
The Japanese vehicle manufacturer funded construction of the facility with a $1.4 billion U.S. Energy Department loan, and the intention was to have it focus solely on making lithium-ion batteries, motors, and other components for the Leaf. Nissan now plans to have the factory add manufacturing of parts for hybrid gas/electric vehicles that are, or will be, produced at the adjacent assembly plant. Examples are the Pathfinder crossover and the Altima midsize sedan.
The move has come about because Leaf sales in the US have been disappointing. Nissan CEO Carlos Ghosn has targeted annual Leaf sales of 20,000, but the automaker sold only 9,819 in 2012, which was an increase of 1.5 percent. The car is more popular elsewhere; Brendan Jones, director of electric vehicle marketing for Nissan North America points out that Nissan had sold nearly 50,000 worldwide through November 2012.
Nissan isn't losing confidence in the U.S. market. Andy Palmer, Nissan's executive VP, told Bloomberg News that, "It's a damned expensive plant, so we want to use it as much as possible".
In 2012, U.S. electric car sales totaled 10,407 through the end of November, which topped full-year 2011 sales of 9,754, according to Edmunds. But the real growth has been in hybrid gasoline/plug-in electric cars. Sales of these models jumped to 31,042 in first 11 months of 2012 versus just 7,671 for all of 2011.
This sharp divergence in trends appears to be because Americans have three major issues with electric cars. A recent survey by Pike Research found that only 35 percent of consumers were very interested in buying an electric car or advanced hybrid, down from 44 percent in 2010. Notable in the more recent Pike survey was that 37 percent of the respondents said that electric cars' batteries are dangerous.
The other major challenges for electric cars are price and the availability of public charging stations. The Leaf's base model price of $35,200 was chopped this week to $28,800. The base price of the hybrid Chevrolet Volt (NYSE: GM) is $39,145. Despite the higher price, sales have been brisk. Chevy sold 7,671 Volts in 2011, and through 11 months of 2012 Volt sales have soared to 20,828 units.
In the American mass market, it's clear that consumers are not yet ready to embrace a vehicle that is wholly dependent on an electric battery. However, there appears to be a viable niche in the high end all-electric market, as evidenced by the success to date of Tesla Motors (NASDAQ: TSLA). List price of its fully-electric Model S is $57,400 to $105,400 before U.S. and state incentives and rebates.
JP Morgan estimates that Tesla sold 3,400 units in 2012, its first year of production, but given extremely strong demand their forecast is for a spike in 2013 sales to 18,500 units and 22,500 in 2014. BMW launched the ActiveE in 2012, and Mercedes Benz plans to unveil the SLS AMG E-Cell in 2014.
Nissan doesn't target the same high-end all-electric buyer as Tesla does at this time, but JP Morgan believes that if Tesla successfully executes its strategy with upper income consumers it is likely that they would then offer electric cars at lower price points for the mass market.
Posted-In: Andy Palmer BMW Brendan JonesNews Management Economics Markets Trading Ideas Best of Benzinga
View Comments and Join the Discussion!