The Gun Stocks Look Loaded For Earnings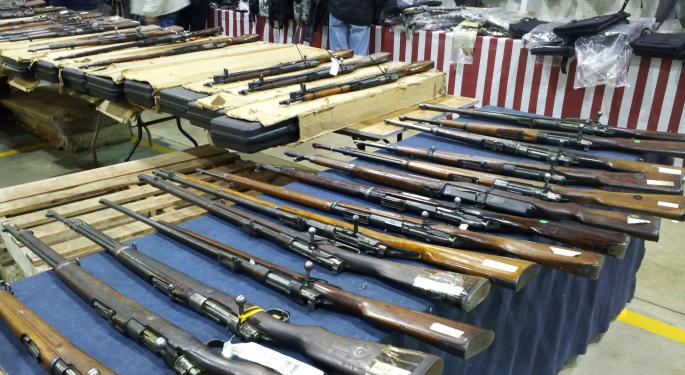 Word has spread like wildfire that firearm sales have skyrocketed over the past two months, but are these claims founded?
According to the FBI there are currently over 160 million registered firearms on the market. In 2012, the number of average monthly firearm registrations- the generally accepted measure for legal firearm sales- came in at 1.632 million per month.
The sales in November broke free of this average however, soaring above it by 18.64 percent, coming in 2.006 million, while December sales utterly destroyed the average, rising to 2.783 million, a staggering 41.34 percent beat.
To check these numbers and do some channel checking of our own, the Benzinga team called two dozen gun shops in Michigan and received some interesting responses. Of the shops surveyed, 70 percent reported a large increase in sales over the past two months, while a full 42 percent reported significant difficulty re-stocking everything from hunting rifles to ammunition and accessories. Everything is flying off the shelves.
For a state ranking 41st in the number of registered firearms owned by civilians, this hints at a massive increase in sales nationwide.
What does this mean for firearm makers Smith & Wesson (NASDAQ: SWHC) and Sturm Ruger (NYSE: RGR)?
After both companies posted earnings beats in December and October respectively on much lower national sales, it looks like they are poised to not just beat analyst estimates, but blow them out of the water.
Of the two, Sturm Ruger's earnings are up first when the company reports on February 25th. The quarter its reporting for ended December 30th, landing the two record months of national sales right in the company's earnings period.
So while fears of regulation and a massive short float of almost 50 percent keep the stock at bay, earnings may send it back towards 52 week highs.
Smith & Wesson on the other hand has earnings on March 5th, when it reports for the quarter that ended on January 13th. If you're particularly bullish on the sales growth from December into January like much of our research seems to show, this may be the better pick to take advantage of the increase in sales.
With a short float of over 22 percent, the stock is still prone to short squeezes, but nothing comparable to those that can be seen in Ruger.
Shares of Sturm Ruger traded roughly flat Tuesday, rising 0.04 percent to $47.99 while Smith & Wesson rose 2.43 percent to $8.43.
Stay tuned for a more in depth fundamental and technical analysis of both stocks tomorrow, or check out part I of the series for more background on the topic!
Posted-In: News Movers Trading Ideas Best of Benzinga
View Comments and Join the Discussion!