Will the Flu Season Make Your Portfolio Sick?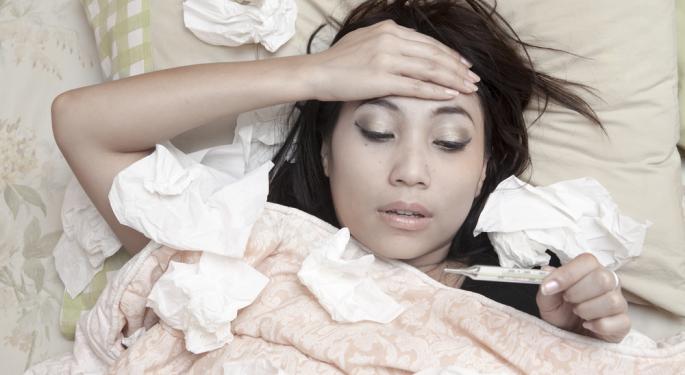 Unfortunately flu season is finally here. It looks to be a particularly nasty one, but for investors, does it have the potential of making portfolios sick? Perhaps, but it could also offer some upside.
According to the CDC, there have been 2,257 hospitalizations because of the flu through December 29. Last year, 2.2 percent of people visiting the hospital had flu-like symptoms. This year the number is already at 5.6 percent. Up to 7 percent of all deaths reported in studied cities were the result of pneumonia or the flu — barely below epidemic status.
How does one turn the flu into profits?
First, head to the drugstores. During last year's flu season, running from October through May, Rite Aid (NYSE: RAD) was up 46 percent. Walgreen (NYSE: WAG) was up 6 percent, and CVS Caremark (NYSE: CVS) rose 33 percent. Walgreen said that it has administered 5.5 million flu shots through December — up from 5.3 million the year before.
To provide a bit of alpha vaccination to a flu-themed portfolio, CVS Caremark recently announced that it would raise its dividend 0.225 cents per share resulting in a yield of 1.8 percent currently. Walgreen has an impressive yield of 2.9 percent.
According to CNBC, 50 percent of tissue sales come during flu season. That could make tissue makers Proctor and Gamble (NYSE: PG) or Kimberly-Clark (NYSE: KMB) a second derivative play; both have underperformed the S&P recently.
Roche Holding AG, (OTC: RHHBY) makers of Tamiflu, saw an increase of 15 percent during last year's flu season. Canada recently announced that, due to a shortage of the drug, it was releasing some from its National Emergency Stockpile System. Roche is under pressure to ramp up production of the drug due to the particularly severe flu season.
One of the best ways to vaccinate a flu themed portfolio is to remove health insurers. With an uptick in the flu also comes an uptick in insurance claims. Centene (NYSEE:CNC) recently lowered its guidance saying that higher flu costs along with other expenditures will weigh on profits early in 2013.
Others to watch include Wellpoint (NYSE: WLP), Aetna (NYYSE:AET), and Aflac (NYSE: AFL). Although last year's flu season resulted in double digit gains for many of the health insurers, with the promise of a particularly rough 2012-2013 flu season, these might be stocks to avoid this year.
Posted-In: News FDA Trading Ideas Best of Benzinga
View Comments and Join the Discussion!