Airline Stocks Soar While Boeing Remains Grounded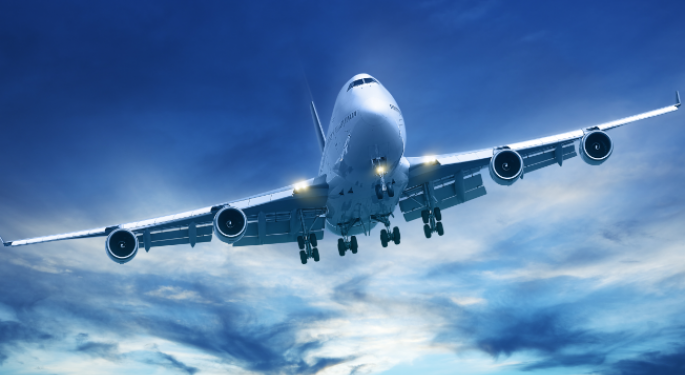 When an airline makes headlines, it's almost never good. Boeing (NYSE: BA) did it twice in two days. A fire broke out in one of its new 787 Dreamliners Monday, and on Tuesday, another 787 leaked about 40 gallons of fuel prior to taking off.
Boeing execs may be losing some sleep over the barrage of negative headlines. But will the news have an impact on pending orders? Boeing currently has about 850 orders — 48 of which have been delivered. The Wall Street Journal reports that Boeing will have to sell 1,100 787's before the program becomes profitable. The company believes that, industry-wide, more than 2,000 small, twin aisle jets will be sold between now and 2031. Boeing hopes to capture at least 50 percent of those sales with the 787.
Despite the recent negative news, Boeing shares managed to sit up over three percent on Tuesday.
Rigas Doganis, former Chief Executive of Olympic Airways, told BBC he doesn't believe these incidents are likely to affect orders because airlines understand that every new aircraft has problems when first rolled out. BB&T analyst, Carter Leake, who downgraded Boeing from a "Buy" to a "Hold," said on CNBC that it won't be long before Boeing is out of free passes.
Each incident intensifies FAA response, according to Leake. Until Boeing determines whether the problem is manufacture or design related, he advises investors to steer clear.
It's clear that investors are selling first and asking questions later. The stock is down more than 4 percent since Monday when the first incident occurred, though it is trading up slightly in the premarket on Wednesday. Only two of the major U.S. based airlines have placed orders for 787s — United Airlines (NYSE: UAL) ordered 14 and Delta (NYSE: DAL) ordered 18.
The Wall Street Journal reported that airline technicians at United Continental (NYSE: UAL) discovered one of their 787s had improperly installed wiring leading to the same battery that caught fire on another jet on Monday.
But just because Boeing is having a rough week doesn't mean that investors should steer completely clear of aviation stocks. U.S. Airways (NYSE: LCC) continues its upward ascent — up about 16 percent since it announced an agreement with the leaders of the two pilot unions in December that paved the way for a merger between the company and American Airlines (OTC: AAMRQ).
Although the American Airlines board is meeting Wednesday to discuss the merger, no announcement concerning the merger is expected. Both sides are reportedly too far apart on the details of the merger. Delta (NYSE: DAL) is up nearly 30 percent in the past month largely fueled by the announcement of a deal to take a non-majority stake in Virgin Atlantic. This gives Delta increased access to the highly coveted New York to London route where Virgin has more access to Heathrow Airport.
A name not so common to investors, Copa Holdings, (NYSE: CPA) parent company of Copa Airlines, offers service to 28 countries in North, Central and South America including the Caribbean. CPA was up 61 percent in 2012 and holds 13 "Buy" or "Strong Buy" ratings.
Finally, Ryanair Holdings (NASDAQ: RYAAY) has soared 10 percent in the past month and 28 percent in 2012. Ryanair offers service to Ireland, the UK, Morocco, and continental Europe.
Posted-In: News Intraday Update Movers Trading Ideas Best of Benzinga
View Comments and Join the Discussion!