Euro Holding Above $1.30 Under Fiscal Cliff Pressure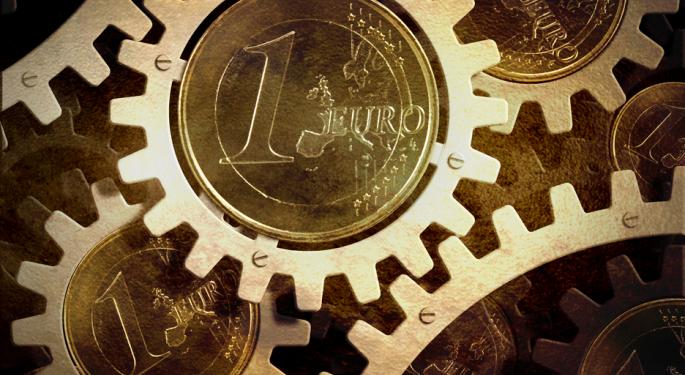 The euro traded at 1.3196 on Monday morning as the New Year approached. The common currency has had a tumultuous year as the regions economies struggled to overcome debt problems and repay lenders.
The euro is under heavy pressure as the U.S. comes down to the wire with its fiscal cliff decision. With just hours to go before the package of spending cuts and tax hikes totaling nearly 600 billion euros kicks in, many a re expecting there will be no decision in time. Some are expecting a stop-gap, which would delay the decision, and the cliff, for a few days. Reuters reported that German Chancellor Angela Merkel's New Year's address will urge her country to be patient as she expects the crisis in Europe to continue. she pointed out that prosperity in Germany, which has been one of the largest lenders to it's struggling peers, is linked to a successful European Union. While her talk was positive, she hammered home the fact that the crisis was not yet over, and that 2013 could be more painful than 2012.
In 2012, Greece and Spain took center stage as they threatened to pull the entire region's structure down. For the moment, most believe that the restructuring of Greece's bailout terms was enough to keep the country from a much feared eurozone exit. The fourth quarter of 2012 was filled with speculation about whether or not Spain would ask for a full sovereign bailout. Spanish Prime Minister Mariano Rajoy has given no indication that he is thinking about asking, but most investors are expecting his request to come in 2013.
Besides Spain, investors will be watching Italy in 2013 as Italian politics threaten to worsen the countries financial problems. After current Prime Minister Mario Monti suddenly announced his resignation this year, EU leaders began to worry about who would follow him in the February elections. With just over a month to go before elections, leaders are urging Monti to run for a second term to continue his work on improving Italy's financials.
View Comments and Join the Discussion!
Posted-In: Angel Merkel Mariano RajoyNews Commodities Forex Global Markets Best of Benzinga