General Motors Rally Suggests Following Whales Might Pay Off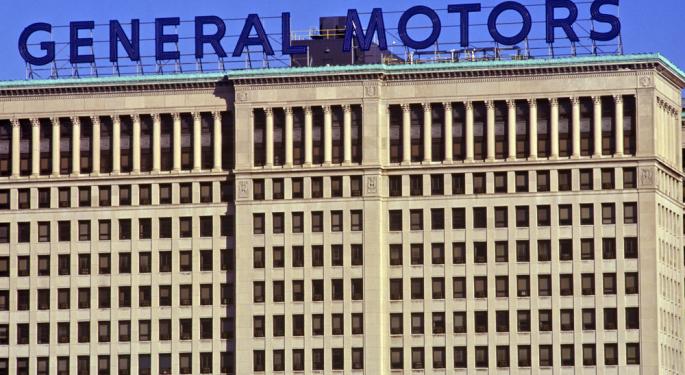 Shares of General Motors (NYSE: GM) rallied over eight percent on Wednesday, after the U.S. Treasury said it would sell off its entire stake in the auto giant over the next 15 months.
Some GM bears argued that the government's holdings would keep share prices down, as the government selling its stake would create significant additional supply.
However, as part of the Treasury's move, General Motors itself would be purchasing about half the Treasury's stake -- 200 million shares -- by the end of the year. What's more, GM would be paying a premium: $27.50 per share. Shares closed Tuesday at $25.49.
Still, even with Wednesday's rally, shares of the automaker are down significantly from the IPO. When the GM came back to the market in late 2010, it traded in the low $30 range, and briefly traded as high as $38.98.
But, as with many other IPOs, shares rapidly corrected, hitting a low of $18.72 in the summer of 2012.
Yet, a number of big names saw value in the company. If investors had followed them into the stock, they might have profited significantly.
Warren Buffett's Berkshire Hathaway increased its stake in General Motors in the first quarter of 2012, buying shares at an average price of $24.35, according to Bloomberg. At first, the Oracle of Omaha took a bath on his shares, as GM's stock dropped far below his purchase price.
But now, assuming that Buffett has held his stake, he is sitting on a solid profit.
Likewise, noted hedge fund manager David Einhorn advocated that investors take a stake in GM at the Value Investing Congress in October. Einhorn explicitly stated that, following the presidential election in the U.S., the government would move to sell its stake, and GM had the cash to be a buyer.
After Wednesday's gain, is it time for investors to bail?
Einhorn liked GM for other reasons, noting that the company was poised to benefit from an economic recovery. Meanwhile, Buffett, although there have been notable exceptions, generally stays with his stocks for a long time.
One thing that might crimp future GM earnings is a more aggressive Bank of Japan. On Sunday, Shinzo Abe won the Japanese election to become the country's next prime minister. Abe is notable for his aggressive stance on further monetary easing.
Should Abe get his way, Japanese autos could once again dominate their American counterparts as Japan's exports become relatively less expensive on the world market. Shares of Toyota (NYSE: TM) gapped up about two percent at the open Wednesday, while Honda (NYSE: HMC) traded up four percent.
GM traded at $27.62 on Wednesday.
Posted-In: News Hedge Funds Movers & Shakers Global Economics Intraday Update Movers Trading Ideas Best of Benzinga
View Comments and Join the Discussion!