Will Apple Boost LED TV Adoption Rate in 2013?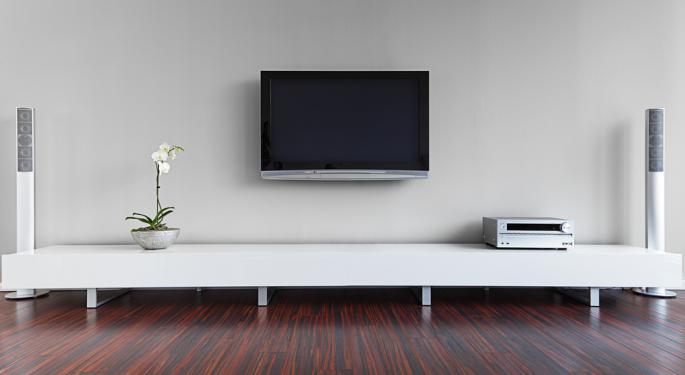 A new DigiTimes report suggests that the rate of penetration for LED televisions will increase next year.
The increase is being attributed to "vendors increasing their number of large-size high-resolution TV units for sale," the report claims, citing market observers. LG and Samsung are among the firms that are expected to continue building larger LED televisions while discontinuing overall CCFL TV production.
This is a nice theory, but it is contradictory to the current trends in TV sales. Television sales have been declining for a long time -- a very long time. The declines started more than three years ago. Sales have yet to rebound.
The simple reason for this is because of the nature in which TVs are produced and purchased. They are large and expensive items that are designed to sit in a room for 10 or more years. Unlike computers, they are not prone to viruses, software malfunctions, hardware failure and other issues that could cause the unit to die prematurely. TVs are also produced without the need for frequent upgrades.
Thus, most consumers buy a TV knowing that it will last for a several years. This allows them purchase an expensive set with a degree of confidence.
Most consumers have already made that purchase. Unless LG and Samsung have something major planned for 2013, they are unlikely to persuade consumers to buy another TV next year.
If the report is right and LED TV penetration is about to increase, there must be a catalyst -- and it could be Apple (NASDAQ: AAPL).
Apple has an interesting way of reigniting old or stagnant markets. Prior to the release of the iPhone, consumers did not wait in line to buy new smartphones. Research In Motion (NASDAQ: RIMM) was successful, but its reach was limited. Apple changed that. The Mac maker inspired consumers to get out of bed early, drive to the nearest Apple Store and wait in line for hours to purchase each iPhone.
This trend continued with the iPad. There were tablets before Apple entered the market, but only the iPad was able to produce long lines nationwide.
Apple may not have the same level of success with its first television, which is rumored to be called iTV. However, if any company has the potential to increase the penetration of LED TVs, it is Apple.
Unfortunately for investors, that may not be enough to save the stock. Early this morning Apple announced that it had sold more than two million iPhones in China, setting a new record for the company. Investors initially responded by raising the company's value less than one percent in pre-market trading.
Investors gave Apple a similar reaction after the company announced that it had sold five million iPhones immediately after the iPhone 5 was released. When the newly upgraded iPads sold three million units, investors all but cringed.
Meanwhile, when a hot rumor suggests that Apple is three months away from releasing an iDevice upgrade, investors go crazy. They have sent the message that they love rumors of potential iDevices but hate it when Apple announces high sales figures for its actual products.
Apple has lost more than 27 percent of its value since the iPhone 5 was released on September 21. Comparatively, Apple rose more than 19 percent in the three months leading up to its release (June 20, 2012 to September 20, 2012).
Follow me @LouisBedigianBZ
Posted-In: Apple Apple Television iPhone 5 iTVNews Rumors Success Stories Tech Best of Benzinga
View Comments and Join the Discussion!