Netflix Ranks Google Fiber as the Fastest ISP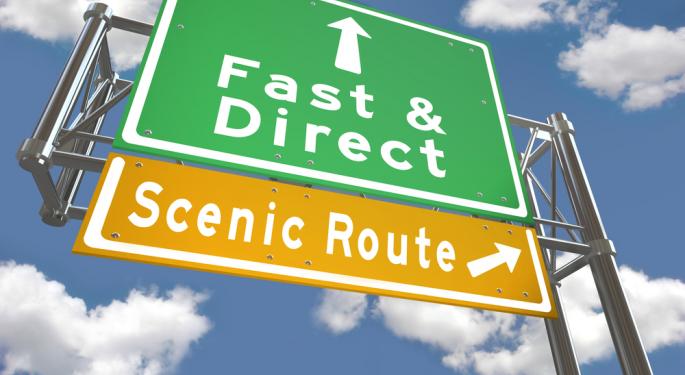 Netflix (NASDAQ: NFLX) has 30 million streaming subscribers worldwide that view more than one billion hours of content every month. With that in mind, the video rental company thought it would be a good idea to look at the quality of the ISPs (Internet Service Providers) consumers are using in America.
Starting this week, Netflix will publish monthly rankings of major ISPs "based upon their actual performance across all Netflix streams."
During November, Google (NASDAQ: GOOG) Fiber proved to be the fastest ISP available. While the service is not yet available nationwide, Google promised to deliver fast and consistent Internet (up to one gigabit for uploads and downloads) without any data caps. Competing services -- particularly those from Comcast (NASDAQ: CMCSA) and AT&T (NYSE: T) -- provide data caps of 300GB or less, greatly limiting the amount of high-resolution content that consumers can view online.
It is that very limitation that angered Netflix CEO Reed Hastings. "…It will be strange that streaming Game of Thrones from the HBO GO app on my Xbox will count against my Comcast internet cap, but when I watch those same Game of Thrones streams through the Comcast app on Xbox, over the same wifi connection to my Xbox, then it will not count against my cap," Hastings wrote on Facebook last March.
Despite Hastings' complaints, Netflix still ranked Comcast as one of the fastest ISPs available. It came in third place with an average speed of 2.17 Mbps for Netflix streams. Verizon's (NYSE: VZ) highly acclaimed FiOS service came in second place with an average of 2.19 Mbps.
Ken Florance, Vice President of Content Delivery at Netflix, referred to Google Fiber -- which achieved an average speed of 2.55 Mbps for Netflix streams -- as the "most consistently fast ISP in America." Florance based his findings on the actual user experience from Netflix streams in November.
"Broadly, cable shows better than DSL," Florance wrote on the official Netflix blog. "AT&T U-verse, which is a hybrid fiber-DSL service, shows quite poorly compared to Verizon Fios, which is pure fiber. Charter moved down two positions since October. Verizon mobile has 40% higher performance than AT&T mobile."
Florance said that the average performance is "well below" the peak performance due to a number of factors, including Wi-Fi and the variety of devices that consumers use, as well as the plethora of encodes that are employed."
"The relative ranking, however, should be an accurate indicator of relative bandwidth typically experienced across all users, homes, and applications," Florance concluded.
Follow me @LouisBedigianBZ
View Comments and Join the Discussion!
Posted-In: News Success Stories Tech Best of Benzinga