Will Levi's Build Larger Pockets to Accommodate Your Next Smartphone?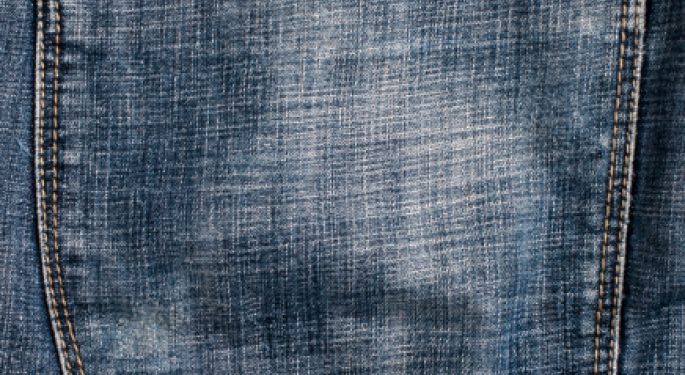 There was a time when tech companies worked hard to make their devices as small as possible. From cellular phones and netbook computers to game systems and other gadgets, the tech industry was once obsessed with size.
The industry is still obsessed, but instead of making products smaller, many of the industry's top players are making them thinner, wider and longer. This led to the creation of televisions that are enormously wide but are light enough and thin enough to hang on a wall. Now a similar trend is hitting mobile phones.
One of the biggest is the Galaxy Note II, a large smartphone with a 5.5-inch display. This was an increase over the original Galaxy Note, which featured a 5.3-inch display. LG followed suit by releasing the five-inch Intuition, a massive five-inch smartphone that is too big to hold comfortably in one hand. LG's Optimus 4X HD, which features a 4.7-inch display, is nearly as big.
These smartphones were specially designed for consumers who wanted a bigger screen. The trend does not end there, however. Samsung has continually increased the size of its flagship phone, the Galaxy S.
The first Galaxy S featured a four-inch display. Samsung increased the screen to 4.3 inches when it launched the Galaxy S II. The most recent model features a 4.8-inch display. Now the company is expected to make the screen even bigger when it releases the Galaxy S IV.
Nokia (NYSE: NOK) is also increasing the size of its displays. While the Lumia 900 featured a 4.3-inch display, the Windows Phone 8-powered Lumia 920 comes with a screen measuring 4.5 inches.
Apple (NASDAQ: AAPL), which held onto the same screen size and aspect ratio for nearly five years, finally lengthened the size of its smartphone when it released the iPhone 5.
Clearly the larger form factors are here to stay. If they are, what does this mean for apparel companies like Levi's and American Eagle (NYSE: AE)? Will they have to adjust the shape and size of their pockets?
A spokesperson for Wrangler told Benzinga that the company does a lot of testing to ensure that phones can fit in the pockets of their jeans. "I'm not sure if there are plans to expand them to some of the much, much larger [phones]," she said.
Levi's, Lee, Gap (NYSE: GPS) and American Eagle did not return Benzinga's request for comment.
If smartphones continue to grow but pockets remain the same, it could lead to a resurgence in popularity for cell phone holsters. Of course, consumers who think they look silly could simply carry a man's bag to hold their oversized smartphone.
Follow me @LouisBedigianBZ
View Comments and Join the Discussion!