Wynn Resorts, Las Vegas Sands Hit by Macau Crackdown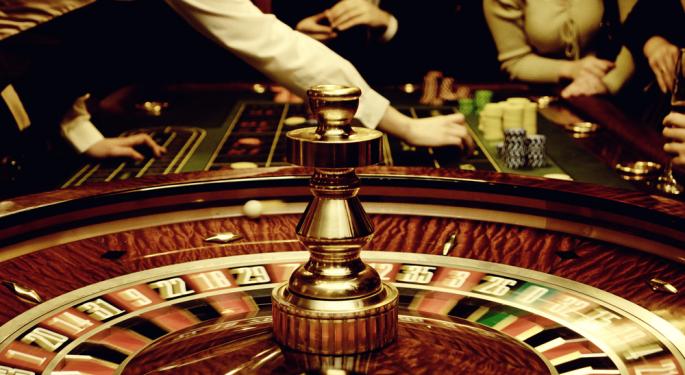 Wynn Resorts (Nasdaq: WYNN) and Las Vegas Sands (NYSE: LVS), which operate casino resorts in the Chinese city of Macau, are down in early trading Tuesday as Chinese authorities crack down on money laundering through Macau's casinos.
No one is accusing the two companies of any wrongdoing.
Chinese authorities are cracking down on the illegal transfer of funds to Macau by mainland Chinese through gambling junket and financing companies. "In recent weeks, police in mainland China and Macau have detained people from at least three of Macau's biggest junket operators, the middlemen who extend credit to high-roller players and collect the debts in China, according to people familiar with the situation," The Wall Street Journal wrote. "Some of the detentions have occurred in China and in other cases, the detainees have been moved there, these people say."
Reuters reported, "As Beijing tightens oversight of civil servants and keeps an ever closer watch on flamboyant luxury spending, Macau is an obvious focus. The former Portuguese enclave is the only place in China where citizens can legally bet in casinos. A cash cow for local billionaires and U.S. tycoons such as Wynn and Sheldon Adelson, Macau's annual revenue from gaming is expected to hit $38 billion this year - six times that of Las Vegas."
Mainland Chinese are not allowed to take more than $50,000 out of the country in a single year. This includes Macau, a former Portuguese colony which, like the former British colony of Hong Kong, is a part of China but has its own laws and financial system. "That restriction has prompted some high-roller gamblers to rely on junket operators to get around Chinese laws and provide access to greater sums," The Wall Street Journal wrote.
It is widely thought that most of the gambling junket operators have ties to the triads, organized crime gangs in China.
Both the outgoing leaders and the new leadership of mainland China are making the elimination of endemic corruption by government officials and their families a major policy goal. The transfer of money from the mainland to Macau's casinos is one of the favorite ways for mainland Chinese to launder money received through corrupt practices.
The Financial Times quoted Hoffman Ma, deputy chief executive officer of Macau casino, Ponte 16, "It's good for the reputation of the industry as a whole. Before, Macau was too reliant on the VIP sector – a relatively small pool of high-rollers involved in massive transactions. It's better to have an industry supported by more mass-market players," he said. "I don't think Beijing wants to see an end to funds going from mainland China to Macau. Officials just don't want people to get away with taking too much out by using underground channels," Ma added.
There is already evidence that the crackdown on illegal funds transfers from the mainland is beginning to have an impact on gambling in Macau. According to the Macau Daily Times, Ben Lee, managing partner at Igamix Management who moderated a panel at the Asia Gaming & Hospitality Congress on November 29 said, "The VIP segment, which traditionally accounts for 70% of Macau's gaming revenue has suffered in terms of growth since June, whereas the mass market has remained strong…The casinos are experiencing a switch from the VIP to the premium mass…We have been told that the mass market is growing and in particular premium mass."
Lee later pointed out that, "Premium mass by definition play for cash, not for credit, and they [the junket operators] don't get a commission. Credit is what drives the VIP market."
Hoffman Ma, cited by the Financial Times above, told the panel that he thinks the ratio of mainland Chinese gambling in Macau, which is currently about 80 percent VIP, will move to 50:50 VIP to mass market. Ma asserted that "very rich people in mainland China" are not concerned about the commission. "Being under the radar is more important to them."
Investors should watch Macau's gaming revenues very closely since both Wynn and Las Vegas Sands derive considerable revenue from their casinos there. The Macau Times today reported that November gambling revenue in Macau was up 7.9 percent compared to November 2011 to US$3.12 billion. But that growth is less than the cumulative 13 percent growth seen in the first eleven months of 2012.
Wynn Macau, a holding company for Wynn Resorts that trades on the Hong Kong Stock Exchange, was down 5.5 percent in trading on Tuesday. Sands China, which represents Las Vegas Sands' operations in Macau, fell 4.4 percent in Hong Kong overnight.
Posted-In: Hoffman Ma Sheldon AdelsonNews Rumors Management Global Best of Benzinga
View Comments and Join the Discussion!