Apple Exec Sells 35,000 Shares, Loses Faith in Company's Value?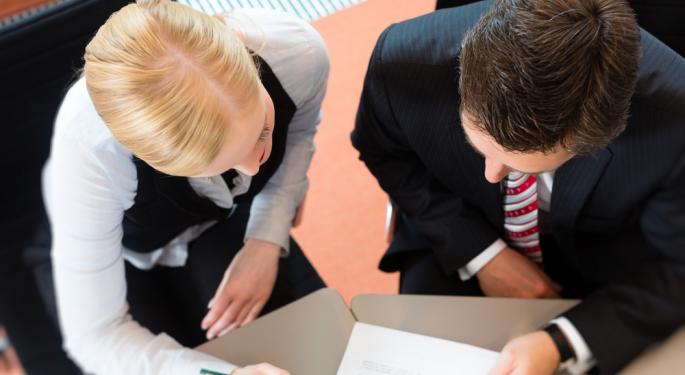 Is this a sign of things to come for Apple (NASDAQ: AAPL) -- or a hint that another exec is planning to leave the Cupertino, California-based tech giant?
According to TheNextWeb, Bob Mansfield, the Senior VP of Apple's Technologies group, has sold 35,000 of his shares in the company. His cash-out price came to $582.21 per share, awarding him a total of more than $20 million.
Six months ago another Apple executive, Scott Forstall, made a similar move. The former VP of iOS sold 95 percent of his shares. He earned nearly $39 million but raised questions about his future at the company. Many wondered if he was planning to leave Apple. Others feared that he had lost faith in the company's future.
Forstall had more shares coming, however -- 100,000 restricted stock units that would vest in 2014 and another 150,000 RSUs that would vest in 2016. Thus, he could afford to part with what he had and enjoy life, knowing that more shares were on the way.
That was the plan, at least. It came to an abrupt end when Forstall was pushed out of the company. No one knows the exact cause of his departure, but one report suggested that Apple fired him after he failed to publicly apologize for the failed Maps app. Whatever the case, Forstall is no longer in charge of iOS.
Mansfield, on the other hand, came out of retirement to return to Apple this year. He now has another 150,000 in stock options coming in June 2013 and March 2016. But if he is planning to stay long enough to get the first batch, why would he sell 35,000 shares now?
The obvious answer is that he either really wanted the money or that he fears the stock will have declined by the time June 2013 arrives.
This is not unprecedented. While Apple is up this week, jumping nearly two percent in the last five days, the company has yet to recover from its three-month loss of more than 11 percent. Year-to-date Apple is still performing better than most companies, raising its value by more than 43 percent. But those gains occurred in the months leading up to the release of several major Apple products, including the third-generation iPad (released last spring) and the iPhone 5 (released in September). Now that the company has gone through its portfolio, some investors have lost their interest in the stock.
Some believe that Apple will skyrocket as soon as the hype begins for its 2013 slate of products, which will include another iPad and iPhone and may include a new television set. But the release of those products is very far away. Without any new iDevices coming in the next three months*, Apple's value may continue to stumble.
As a senior executive, Mansfield has the benefit of knowing exactly when Apple plans to release its next product. Thus, this could also be a sign that Apple does not have any major releases planned for the next several months.
*Presumably. Apple has surprised investors before by shipping the fourth-generation iPad just eight months after the third-generation model was released.
Follow me @LouisBedigianBZ
Posted-In: Apple Bob Mansfield iPad iPhoneNews Management Tech Trading Ideas Best of Benzinga
View Comments and Join the Discussion!