Stocks for Black Friday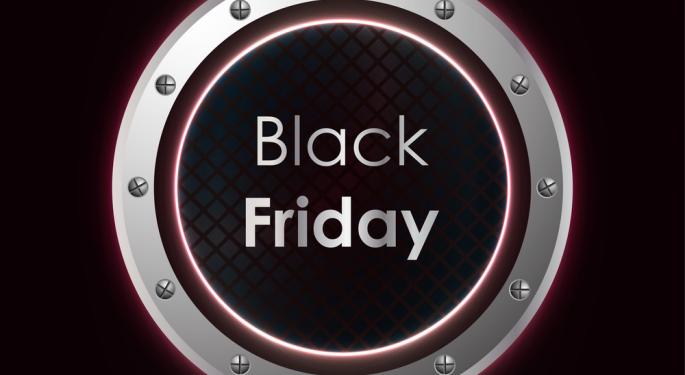 U.S. stocks are expected to rise in a shortened post-Thanksgiving trading session. The session will end at 1:00 p.m. EST, and is expected to emphasize retailers on the busiest shopping day of the year. Retail stocks often outperform the rest of the market ahead of the holiday season, but the same stocks tend to underperform the rest of the market once the shopping season gets underway.
Many stores open for business in the early morning hours after Thanksgiving in an effort to boost sales. Some stores opened at midnight on the 23rd, or even early in the evening of Thanksgiving Day.
Discount retailer Wal-Mart (NYSE: WMT) opened its doors Thursday night to get a jump on Thanksgiving shoppers, and reported in a press release that it had sold 1.8 million towels, 1.3 million televisions, 1.3 million dolls and 250,000 bicycles, among other products. Wal-Mart and many other retailers hype up their sales before the shopping day, raising expectations and stock prices.
Frequently, those expectations are not met by tangible reality. That's why short sellers are positioning themselves to benefit if stocks start to lag behind projections going into the holiday season.
Black Friday calls a lot of attention to retailers, but not all of it is positive. OUR Walmart – a group of current and former Wal-Mart employees seeking better wages, working conditions, and employment benefits – have staged protests outside Wal-Mart stores across the country for months, and plan to ramp up their efforts on Black Friday.
In a poll by Reuters, two-thirds of shoppers were planning to spend the same amount they had spent last year, it not more. But the National Retail Federation said only 147 million people were planning to shop this weekend, compared with 152 million on the weekend last year.
In trading today as of approximately 9:05 a.m. EST, Wal-Mart has made modest gains of about 0.48 percent.
Sears Holdings Corporation (Nasdaq: SHLD) was up 0.27 percent, Best Buy Co. (NYSE: BBY) was up about 1.51 percent, J.C. Penney Company (NYSE: JCP) was up about 1.78 percent, and Target Corporation (NYSE: TGT) was up 0.38 percent. Amazon (Nasdaq: AMZN) was trading down about 0.33 percent.
Posted-In: Black Friday National Retail Federation OUR Walmart Reuters ThanksgivingNews Retail Sales Best of Benzinga
View Comments and Join the Discussion!