Apple's Siri May Inspire the Next PC Evolution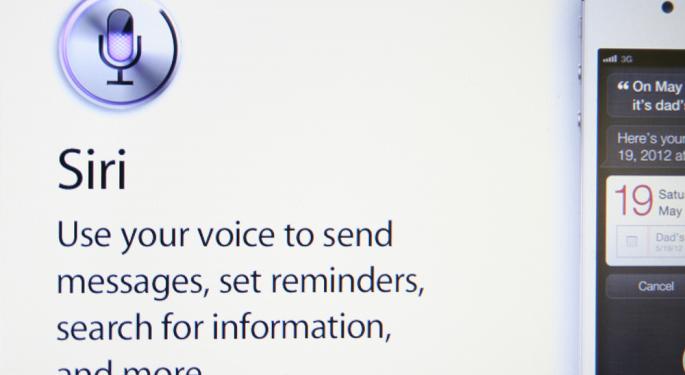 Touch screens are all the rage now that smartphones, laptops and desktop computers are abandoning traditional interactive features (such as buttons) for a more modern approach. MacBook touch pad users have already seen a glimpse of this evolution.
Regardless, it will be a long time before every display is a touch screen. But once they have taken over the PC industry, computer manufacturers may turn to a hands-free form of interaction: voice recognition.
Apple (NASDAQ: AAPL) became the first company to create a mainstream voice recognition platform when it released Siri and the iPhone 4S. According to DigiTimes, Taiwan-based supply chain makers believe that voice recognition will become the "next major focus for the notebook industry."
In the meantime, the PC sector has put most of its eggs into the touch screen basket. DigiTimes' sources believe that Black Friday will provide a "crucial market test" for convertible notebooks (those that contain the features of both a laptop computer and a tablet).
Lenovo, Dell (NASDAQ: DELL) and Hewlett-Packard (NASDAQ: HPQ) are among the many manufacturers that currently produce Windows 8-based convertibles. Hewlett-Packard has received a considerable amount of attention for producing the 11.6-inch Envy x2, a laptop/tablet hybrid with a detachable screen that can be separated from the keyboard. According to DigiTimes, detachable models are expected to become the most popular available.
Dell has taken another route with the XPS 12, which features a screen that can swivel backwards to use as a tablet. In this case, the keyboard stays in place. Lenovo has built a similar machine with the IdeaPad Yoga 13, a unique laptop that is converted into a tablet by flipping the screen backwards, pushing the keyboard underneath the screen.
Thus far, retailers do not seem eager to discount these or any other convertible laptops for Black Friday. Best Buy (NYSE: BBY) does not currently have any major convertible sales on its Black Friday preview page. Most Wal-Mart (NYSE: WMT) and Target (NYSE: TGT) stores do not currently carry convertible laptops. Amazon (NASDAQ: AMZN) has put a few Intel (NASDAQ: INTC) Ultrabooks on sale, but the convertibles are close to full price.
On Black Friday, consumers rarely go for the latest and greatest. Rather, they shop for the best deals. This could make it difficult for manufacturers to gauge the long-term success of convertible laptops, which are still new and are considerably more expensive than the average PC.
Follow me @LouisBedigianBZ
Posted-In: Black Friday DELL Digitimes hewlett-packardNews Rumors Events Tech Best of Benzinga
View Comments and Join the Discussion!