Two Competing Visions of Free Trade in Asia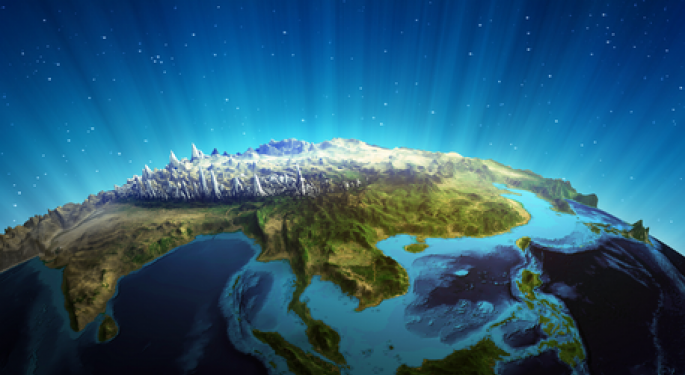 As President Obama meets with his Asian counterparts in Phnom Penh Cambodia, two competing visions for a free trade zone in Asia will be on display. One, backed by the U.S., called the Trans-Pacific Partnership (TPP), excludes China. The other, called the Regional Comprehensive Economic Partnership (RCEP), is backed by China and excludes the United States.
Trilateral free trade talks between China, Japan and South Korea, the core members of RCEP, are expected to start before year-end following conciliatory gestures by China toward Japan led to a meeting economic minister attending the much larger East Asian Summit meeting in Cambodia.
Countries such as New Zealand, which was a founding member of the TPP, stand to benefit from participation in both sets of free trade agreements. "New Zealand has no qualms about being in both arrangements and [New Zealand prime minister John] Key said it was important to get into the RCEP at the ground floor," The New Zealand Herald wrote.
Australia has echoed this sentiment. Australian prime minister Julia Gillard told The Australian, "…we're prepared to be in all starters that can get us there to that broader vision, which is why we will be there for the [RCEP] which is why we will be there for the TPP."
Japanese prime minister Yoshihiko Noda has staked his future on bringing Japan into the TPP, even though there is a lot of opposition to this in Japan. The U.S. has made no bones about one of its goals being unfettered access to Japan's agricultural products market, which has a lot of opposition in Japan. Last week, Noda dissolved the Diet for an election that will be held on December 16, 2012. Noda sees the election as essentially being a referendum on TPP. However, Noda's Democratic Party of Japan is widely expected to lose the election,
In the meantime, the start of trilateral free trade talks between China, Japan and South Korea are expected to serve as a means of ratcheting down the tensions between Japan and China and between Japan and South Korea in two separate territorial disputes. It is encouraging that all three countries, who had committed to starting free trade talks back in May before relations worsened, have decided to fulfill that commitment by coming to the negotiating table.
For investors, a free trade agreement, whether within the context of TPP or RCEP, would be positive for many companies in the Asia-Pacific region. Japanese exporters, including Toyota Motor (NYSE: TM) and Honda Motor (NYSE: HMC) would benefit by being able to ship cars, parts and subassemblies freely to participating countries.
Australian miners, including BHP (NYSE: BHP) and Rio Tinto (NYSE RIO) would be able to ship iron ore and coal freely to major consumers including China and India. South Korean steel maker, POSCO (NYSE: PKX) would be able to ship steel freely to Japanese automakers and construction companies.
There are serious flaws to both of the free trade arrangements under discussion in Cambodia today. Unless a regime is created that includes both the U.S. and China, the world's two biggest economies, the only way to really benefit would be to play both ends against the middle as Australia and New Zealand are doing.
Unfortunately, politics will be an important part of the process. In Japan, the biggest supporters of TPP are likely to lose December's election. In the U.S., can President Obama convince his own party to approve a free trade treaty that gives China unfettered access to the U.S. markets? In China, will the new leadership be able to convince the powerful state-owned enterprises to accept free trade in a command economy?
These are questions that can only be answered over time. Investors will find plenty of risks and opportunities as the future of free trade in the Pacific is debated.
Posted-In: News Politics Global General Best of Benzinga
View Comments and Join the Discussion!