Euro Steady Ahead of Tuesday's Greek Aid Decision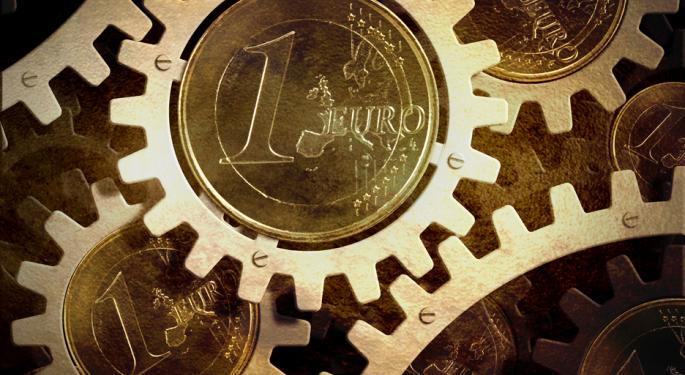 The euro held steady near $1.27 on Monday morning as investors waited to hear the final outcome of an EU finance ministers' meeting to discuss the next Greek aid package. With 17 countries represented plus IMF Director Christine Lagarde, there is potential for quite a bit of disagreement.
Lagarde has already publicly voiced her concern about the decision to allow Greece two extra years to lower its debt. The decision was made against the IMF's recommendations and many have seen this as a sign that the fund may not continue to finance Greece. Businessweek reported that Lagarde gave an interview stating that she was going to defend the IMF's credibility and that she was going to approach the meeting with patience. When asked about the IMF cutting support, she said they "never leave the table".
Lagarde is not the only presence at the meeting to take issue with Greek debt restructuring. The ministers will also have a lot to agree on as they attempt to avert a Greek exit from the Euro. With a backdrop of social unrest and protests, the ministers must find a way to fund relieve some of the country's debt without asking the taxpayers to contribute any more.
One option is to allow Greece to write off some of its debt held by public institutions. This option, although on the table has been strongly opposed by Germany. Instead, German Finance Minister Wolfgang Schaeuble has suggested cutting loan rates and giving Greece more time. After private investors forgave 100 billion euros in debt in March, many are calling for more debt relief once the Greek government has implemented economic reforms.
Even with many differing ideas about the relief package, a final decision is expected on Tuesday. The finance ministers have pledged to work diligently until an agreement is reached and an updated rescue package is completed. Luxembourg Prime Minister Jean-Claude Juncker is anticipating that the ministers will come to a definite agreement on Tuesday, with the possibility of one more meeting at the end of November to formally approve the package.
Posted-In: Christine Lagarde Jean-Claude Juncker Wolfgang SchaeubleNews Commodities Forex Global Markets Best of Benzinga
View Comments and Join the Discussion!