Morning Meeting: Back to the Chinese Time bomb Hypothesis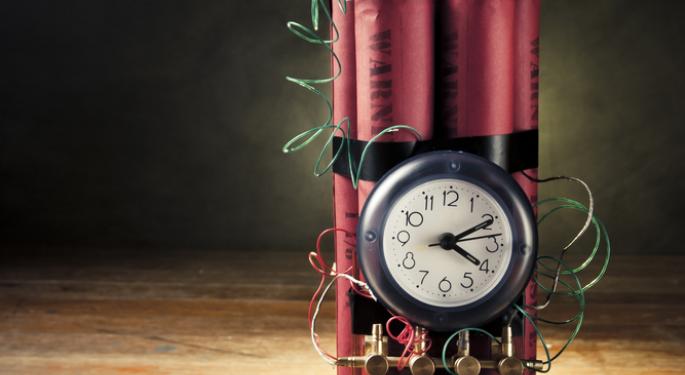 Good Morning,
Friday's European Closing Thoughts' title was "Will it Break or Will it Hold? " referring to Eurex Euro Stoxx50 December futures, $FESX_F, behaviour, looking to Friday's US close and today's Asian markets the answer seems to be: it will hold.
On Friday US President Obama began a new round of deficit-reduction negotiations with Democratic and Republican congressional leaders in an effort to avoid more than $600 billion in tax increases and spending cuts that could push the nation into a recession next year. Hopes that this effort will pay off boosted stocks on Friday with the DJIA closing 0.37% higher to 12,588.30, and the S&P500 closing 0.48% higher to 1,359.88.
On Sunday the US president and the House Minority Leader Nancy Pelosi expressed optimism that a deal can be reached to avert the "fiscal cliff"; Bush-era tax cuts are scheduled to expire and across-the-board spending cuts are slated to start in January due to Washington's failure to reach agreement on a deficit-reduction package last year.
In Asia, Japan was under the spotlight as the BOJ began a two day policy meeting today, although is expected to refrain from taking fresh policy steps. Speculation that the leader of the opposition Liberal Democratic Party, which is expected to win the December 16 elections, will call for more stimulus including further aggressive easing by the Bank of Japan sent the Nikkei 1.60% higher to 9,128.49, major exporters were once again the top performers as the dollar held above the 81Y mark,the dollar hit a near seven-month high against the yen at 81.59 yen on Monday, the common currency traded slightly above the 103.60Y mark.
Meanwhile, South Korea's Kospi rose 0.58% to 1,881.84, Hong Kong's Hang Seng Index advanced 0.70% to 21,257.04 while China's Shanghai Composite Index fell 1.33% to 2,002.84 pressured by the decline in property developers as official data released on Sunday showed that average prices in 70 cities remained unchanged in October from the preceding month, amid worries controls on the sector may not be eased any time soon.
The euro rose 0.15% versus the greenback to 1.2762$ with traders waiting to know whether euro zone finance ministers and International Monetary Fund's Managing Director Christine Lagarde would agree on how to make Greece's debt manageable on Tuesday. The drop in the dollar supported gold wich traded 0.41% higher to 1.2761$ an ounce.
In the Oil market, WTI rose 1.02% to 87.81$ a barrel after Israel said it may expand an assault on the Gaza Strip. Israeli Prime Minister Netanyahu said yesterday that the army is prepared to "significantly widen the operation," raising concern Middle East unrest will disrupt oil supplies.
The "fiscal cliff" talks will still be under the spotlight today, while European investors will be waiting for tomorrow meeting's outcome before taking any bet, although looking at what's going on in mainland China my mind goes to the "Chinese time bomb" hypothesis that already in the past the market disproved….
Have a great day.
Originally posted at www.77sigmatrading.com
The following article is from one of our external contributors. It does not represent the opinion of Benzinga and has not been edited.
Posted-In: News Forex Global Economics Markets Trading Ideas
View Comments and Join the Discussion!