Microsoft CEO Adds Credence to Xbox Tablet, Surface Phone Rumors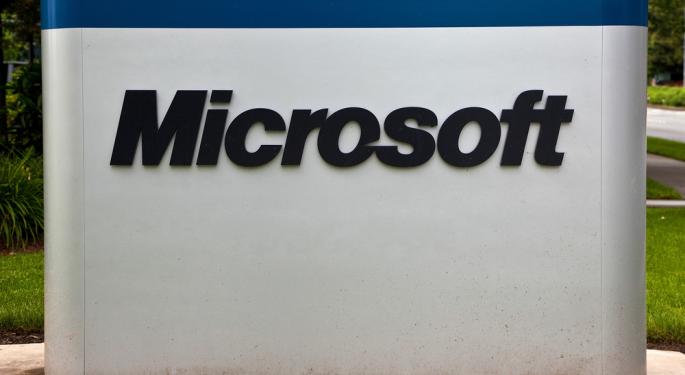 Microsoft (NASDAQ: MSFT) Chief Executive Steve Ballmer is hinting at additional hardware releases in 2013 and beyond.
According to Reuters, Ballmer said that it is "absolutely clear that there is an innovation opportunity on the scene between hardware and software and that is a scene that must not go unexploited at all by Microsoft."
Ballmer also addressed whether the company's partners would "build the lion's share of all Windows devices over the next five years."
"The answer is, absolutely," he said.
Ballmer's statements come at a time when Surface sales are beginning to take off. In addition to the Surface-style smartphone that Microsoft is rumored to be developing, the company is also thought to be creating its first handheld game console. Designed as a seven-inch tablet to take on Apple's (NASDAQ: AAPL) iPad and Sony's (NYSE: SNE) PS Vita, Xbox Surface could provide Microsoft with a new venue for content distribution. As of March 2012, more consumers used their Xbox 360 consoles for Netflix (NASDAQ: NFLX) than for gaming.
That said, gaming has been and always will be an essential part of the device. Without it, hundreds of thousands of consumers would not have lined up at GameStop (NYSE: GME), Best Buy (NYSE: BBY), Target (NYSE: TGT), Wal-Mart (NYSE: WMT) and other retailers to purchase an Xbox 360 seven years ago when it was released. Video games inspired consumer to buy the console over other devices (such as those that only play video). Over time, Microsoft has successfully repositioned Xbox 360 as a multimedia entertainment machine.
Microsoft could feasibly do the same for its seven-inch tablet. By launching with a major video game property, such as Halo, the Windows maker will be able to grab hold of the core gaming market. Better still, those consumers will inevitably use the tablet for more than gaming; they'll surf he Web, check e-mails, download apps, watch videos, etc. And as the price of the device comes down in the months and years after its release, additional consumers will be likely to buy it and take advantage of its multitude of features.
Aside from content (which will be the key to selling an Xbox tablet), Microsoft faces one immeasurable challenge: how to sell the device at a fair (but profitable) price. If the MSRP is too high, Microsoft will run the risk of alienating consumers in the same way that Sony has with its latest device. Since February, Sony has only sold a few million PS Vita units worldwide.
Follow me @LouisBedigianBZ
View Comments and Join the Discussion!
Posted-In: Microsoft Steve Ballmer Surface Xbox Surface Xbox TabletNews Rumors Tech Best of Benzinga