Sharp Higher on Rumors of Rescue by Intel, Qualcomm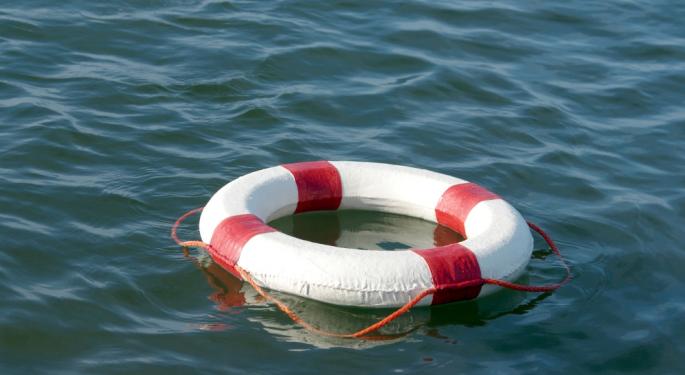 Japan's struggling Sharp (OTC: SHCAY) was up nearly seven percent on Wednesday in Tokyo after reports of a possible investment by Intel (Nasdaq: INTC) and/or Qualcomm (Nasdaq: QCOM) made the rounds before the market open.
There are several different rumors. Kyodo News, a Japanese news wire, reported that Intel would invest up to $500 million into Sharp. Reuters reported that Intel and Qualcomm would jointly invest up to $378 million.
Sharp has been struggling for several years after making a huge strategic error by investing heavily in large screen LCD manufacturing facilities at its Kameyama factory in Japan. The company could not compete in the large LCD display market with Samsung Display although Sharp has been successful in the market for smaller displays used in smartphones and tablet computers.
"Intel, which has been promoting a new category of thin "Ultrabook" laptops with touch screens, has long been interested in Sharp's power-saving IGZO displays, as it responds to a shift from PCs to smartphones and tablets," Reuters reported.
But there is talk of a separate deal with Qualcomm as Reuters continued, "Sharp may reach an agreement as early as the end of this month with Qualcomm, said one of the sources, who asked not to be identified as they were not authorized to speak to the media, adding talks with Intel are less concrete amid the chipmaker's unclear financial picture."
Although widely reported in the English language press on Wednesday, the Japanese language press seems to be more skeptical. "This story is similar to what we heard back in September," writes FISCO, a Japanese investment news and advisory service."Even though there was a story about Apple (Nasdaq: AAPL) coming in as a new candidate for a tie-up, there was never a concrete announcement…It looks like the rally will be short-lived on the hope that, this time, something will happen."
Sharp has been negotiating unsuccessfully with Hon Hai Precision (OTC: HNHPF) for a rescue but the parties were unable to reach an agreement after Sharp's share price fell far below the price set in the initial talks.
In a separate article, FISCO reported that a South Korean website, etnews, reported that Sharp has been increasing its sales of LCD panels to Samsung Display. "Samsung Display has been unable to improve the profitability of its own display production so they should be interested in increasing the supply of displays from Sharp," wrote FISCO quoting etnews.
The same article cited NPD Display Research saying that Samsung Display purchased 8.1 percent of Sharp's LCD panel production in the October-December 2011 quarter but that this had increased to 50.2% by the April-June quarter of 2012.
The bottom line is that Sharp is in big trouble but a recent syndicated credit line will enable the company to make it to the end of fiscal 2013 on March 31, 2014, without going into default. To make it any farther than that, some sort of buyout, breakup or takeover will be needed. Intel and/or Qualcomm would make good partners for Sharp as would Apple or Samsung Display.
It is anyone's guess if any or one company or group of companies will feel that it is worth the risk of bringing Sharp back from the brink.
Mightn't they be better off to wait for Sharp to fold and then pick up their technology and manufacturing facilities out of bankruptcy and minus Sharp's debt?
Posted-In: News Rumors Asset Sales Global Best of Benzinga
View Comments and Join the Discussion!