Hewlett-Packard Wants to Sell 40 Million Notebooks in 2013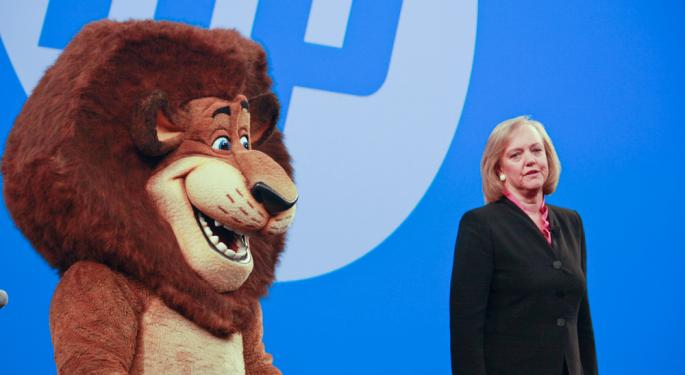 Hewlett-Packard (NYSE: HPQ) has high hopes for the year ahead. According to DigiTimes, the company wants to ship 40 million notebooks in 2013 -- a 25 percent increase from 2012.
Lenovo, Hewlett-Packard's chief competitor, wishes to do the same.
This is an ambitious goal for both companies. Hewlett-Packard, which currently produces the ENVY line of portable computers, failed to meet expectations this year. During the third quarter, Hewlett-Packard PC sales (including notebooks, netbooks and desktops) experienced a worldwide decline of 16.4 percent.
Hewlett-Packard was not the only company to suffer the consequences of the declining PC market. Dell (NASDAQ: DELL) endured a decline of 13.7 percent. Asus and Lenovo were the only two companies that experienced growth. (Asus and Lenovo rose by 11.8 percent and 9.8 percent, respectively.)
In the United States, PC sales fell for every company except Lenovo. Even Apple (NASDAQ: AAPL), which updated its MacBook line of computers and released the all-new MacBook Pro with Retina Display, faced a sales decline of 6.1 percent.
This might explain why Apple lowered the price of the 13-inch MacBook Air by $100. The Mac maker might have anticipated the sales slump.
It is wholly possible that things will turn around in 2013. Windows 8, Microsoft's (NASDAQ: MSFT) new operating system, could have a positive impact on the industry. Few consumers and businesses were willing to buy a computer in the third quarter because they knew that Windows 8 would not arrive until October 26. While any recently purchased computer can be upgraded quickly (and in many cases for free), they may lack the new features -- including a touch screen -- that accompany PCs built specifically for Windows 8. Now that the new OS has been released, consumers are less likely to put off their purchases.
Windows 8 could also reignite consumer interest. Before its arrival, there weren't many reasons to upgrade unless A) a consumer's existing machine broke or B) it was more than four years old. Windows 8 changes that.
Even so, Hewlett-Packard is taking a huge gamble if it expects to sell 40 million notebooks next year. It could end up with a surplus of machines that sit in warehouses and store shelves, waiting to be picked up by consumers who are buying Lenovo machines instead.
In addition to Hewlett-Packard's lofty expectations, DigiTimes reports that Samsung plans to ship 17 million notebooks (a 21.4 percent increase from 2012) and 40 million tablets (a 300 percent increase) next year. Samsung may be able to accomplish that latter goal if sales of the Nexus 10 prove to be as high as the Nexus 7.
Follow me @LouisBedigianBZ
View Comments and Join the Discussion!
Posted-In: Digitimes hewlett-packard LenovoNews Rumors Tech Best of Benzinga