Online Brokerages Find New Ways To Innovate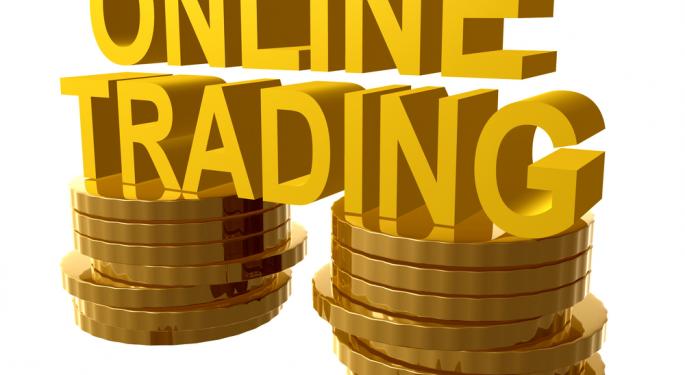 The stock brokerage business has come a long way. With the onset of the digital era, innovative features like rapid trading, real-time data and interactive webinars have transformed the industry. Online brokerages find that they need to invest in innovation to maintain a competitive edge.
Like travel agencies and video stores, the history of stock brokerages is yet another example of an industry that has moved from one-on-one interaction to the internet.
For generations, investors turned to professional stockbrokers to buy and sell stocks, and brokers maintained close relationships with their clients.  On the occasion of a birthday or a child's graduation, investors could expect a call from their stockbroker. 
In recent decades though, technology has swiftly replaced the professional stockbroker for most Americans. 
In the 1990s, low cost brokerages like Ameritrade (NYSE: AMTD), Charles Schwab (NYSE: SCHW) and Scottrade built online trading platforms. New e-brokerages like ShareBuilder and E*Trade (NASDAQ: ETFC) launched their companies online.
Today, online trading is pervasive. Cut-throat competition is the norm in the industry -- brokerages vie to offer the lowest fees, the biggest registration bonuses and the most helpful features. For firms to differentiate themselves in a crowded field, they need to innovate.  
As computers get faster, brokerages continue to push the limits for the very fastest trade execution and data delivery. Lightspeed Trading, based in New York City, is an online brokerage that appeals to active traders with low-cost orders and high speed trade execution. The firm is set to release Lightspeed 8, its fastest trading platform yet. 
 Lightspeed hosts free webinars to teach prospective clients about profitable trading strategies. "People who apply the strategies that they learn in a webinar and see their portfolios grow will be more likely to sign up for a Lightspeed account," figures Lightspeed's Chief Retail Officer Michael Sedek.
When Benzinga spoke to Sedek, the company was preparing for a webinar on Wednesday, November 14th at 4:30 PM EST to teach people about its new Lightspeed Trader platform. Sedek says that the new platform offers the fastest-available trade execution and data.
Other online brokerages focus their innovation strategies on improving the user experience for mainstream investors. ShareBuilder CEO Dan Greenshields told Benzinga that his firm caters to young professionals and tech-savvy investors.
Greenshields said, "For digital natives, before they're going to go and open an investment account or make any investment, most of them will go and do at least one web search—and a lot of them will do three or four. A lot of them will read blogs, go to multiple sources, including us."
ShareBuilder recently released a comprehensive Bond Fund Center and Retire MyWay portal to help customers make more sophisticated investing choices.
E-brokerages have kept on top of trends in mobile technology. Greenshields continued, "Younger investors use mobile phones, so ShareBuilder has apps for Android, iPhone, iPad and the Kindle."
Scottrade is a large online brokerage that targets a mainstream audience. Benzinga spoke with Gina Bhawalkar, Scottrade's Senior User Experience Manager, who emphasized that studying user needs is essential to innovation at brokerages.  "We really involve clients in the online development process. On any given project, we bring clients to our in-house usability lab and get their feedback on the project. Client feedback drives what we do, and that makes us unique in the industry."
Scottrade's commitment to user testing bears considerable fruit. Based on user feedback, Bhawalkar's team built features like a new log-in page and a "quick-trade bar" that clients find intuitive and helpful.
Social media is also an important feature for clients at Scottrade. The company developed the Scottrade Online Community, a space where clients can share trading ideas and discuss strategies.
Another upstart e-brokerage in New York is courting a new niche: young, inexperienced investors. Kapitall was founded on the belief that young people expect technology to have a game-like design. 
Co-founder Gaspard de Dreuzy describes the company's philosophy. "The new generation needs a more inviting, exciting and social platform. Drag. Drop. Trade. It should be that simple."
The possibilities for the industry are endless. De Dreuzy forecasted the future for online brokerages, "We anticipate a growing focus on younger investors, more social mechanics and a need for all existing players to differentiate themselves with better, identifiable user experience."
De Dreuzy continued, "Transaction-based revenues will be a smaller piece of the revenue mix. We think that micro-transactions for advanced functionality and content delivered via apps in a store will grow."
Posted-In: kapitall Lightspeed TradingNews Management Economics Success Stories Tech General Best of Benzinga
View Comments and Join the Discussion!