Greece is Running Out of Time and Money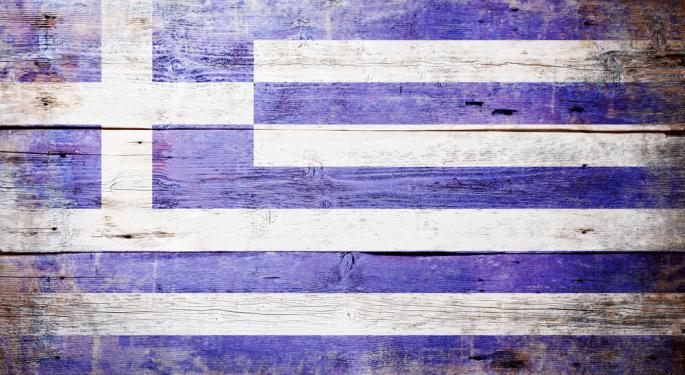 The euro held steady near $1.27 on Monday morning as investors waited for eurozone finance officials to meet in Brussels in the afternoon. The meeting is set to discuss the debt problem in Greece, and whether or not to unlock 31 billion euros in financial aid.
Greece agreed to a set of terms when it received bailout funds back in 2010. However, the country has managed to fall off track with its spending cuts and has become the center of controversy among its lenders. A troika of international lenders visited the country earlier in the year to evaluate its progress and asses its shortcomings in order to help eurozone finance ministers better understand the country's debt problem. The troika will release a report detailing the Greek financial system and make projections for its financial future.
Last week, Greek government officials were able to pass a new round of budget cuts despite opposition from the Greek people. The country, already facing violent protests from previous austerity measures, has suffered from political instability and social unrest as Prime Minister Antonis Samaras has struggled to meet terms set by eurozone lenders.
The troubling financials in Greece are causing much uncertainty for the euro, with eurozone leaders holding out on a decision about the bailout money until they've heard the report from the troika. Greece is running out of time waiting for the decision and is inching closer and closer to bankruptcy.
On top of the 31 billion it hopes to receive, the country also owes five billion euros to the European Central Bank. CNBC reported that the ECB is expecting the debt repaid on Friday despite Greece's ongoing financial struggle. This is also weighing on the euro, as ECB President Mario Draghi told reporters last week that the bank was done helping Greece, and there was nothing more they could do.
Today's meeting could have major impacts on the euro, but many are expecting officials to hold off until the troika report, which may not be ready in time for the meeting. Some economists are expecting that the decision to release the funds will do little to repair Greece's broken economic system and say the only solution is for the country to leave the eurozone; an action that would have negative consequences for the common currency.
Posted-In: News Commodities Forex Global Markets Best of Benzinga
View Comments and Join the Discussion!