Chinese Solar Panel Makers Face Punitive Tariffs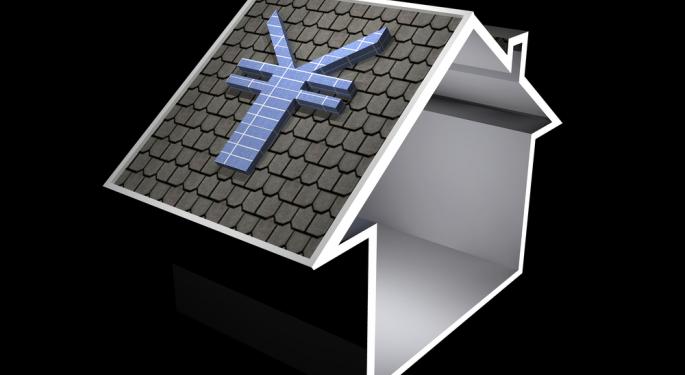 U.S.-listed Chinese solar panel manufacturers have been slapped with tariffs and countervailing duties of up to 250 percent after the U.S. International Trade Commission (ITC) found that the U.S. solar panel industry had been harmed by Chinese dumping.
U.S. trade officials found the Chinese solar panel makers guilty of unfair trade practices back in May but punitive tariffs were not imposed until the ITC vote yesterday.
"U.S. and European producers complain that China's rapid expansion of solar panel manufacturing has created a massive oversupply, destroying profits and crippling share prices," Reuters reported. "The United States imported about $3.1 billion worth of solar cells and panels from China in 2011, up from $640 million two years earlier, although both figures contain some products not covered by the investigation. The ITC vote clears the way for the U.S. Commerce Department to issue five-year anti-dumping and countervailing duty orders on those imports, based on rates announced last month."
As Benzinga reported on Tuesday, punitive tariffs have been set at 31.73 percent for Suntech Power (NYSE: STP), 18.32 percent for Trina Solar (NYSE: TSL), 25.96 percent for LDK Solar (NYSE: LDK) and JA Solar Holdings (Nasdaq: JASO) and 15.42 percent for Yingli Green Energy (NYSE: YGE). In addition, countervailing duties of between 14.78 percent and 15.97 percent will be imposed.
Chinese solar panel makers face similar charges in the EU. In retaliation, China's Ministry of Commerce has filed a complaint with the World Trade Organization (WTO) charging that certain European Union countries unfairly subsidize European solar panel producers.
Although U.S. solar panel manufacturer First Solar (Nasdaq: FSLR) rallied early in the day Wednesday on the assumption that President Obama's re-election would mean more support for alternative energy projects in the United States, the shares were sold off in the afternoon along with the rest of the market. If the market settles down today, the ITC decision to impose punitive tariffs on Chinese solar panel manufacturers may be a reason for investors to buy First Solar shares today.
In related news, the Nihon Keizai Shinbun, Japan's leading business daily newspaper, reported on its website that Asahi Glass (OTC: ASGLY) will be closing one of its two factories in the United States that manufactures cover glass for solar cells. The company cited lower prices for its cover glass due to competition from imported, low-priced Chinese solar panels. Asahi Glass plans to close its Tennessee plant, laying off or transferring 90 workers and cutting its cover glass production by about one-third. The company will continue to operate its solar cell cover glass factory in Kansas.
View Comments and Join the Discussion!
Posted-In: News Events Global Best of Benzinga