Election Decision; Onward to the Cliff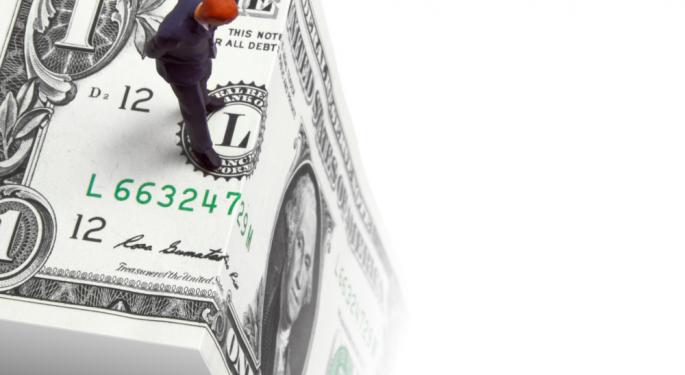 By Danny Riley
The S&P 500 futures rallied +0.8% as U.S. voters marched to cast their votes on who will run the country for the next four years. Commodities rallied and oil and gas were up the most in a month. The S&P 500 futures have been trending lower over the last three weeks and have stalled out and held at the 1400 level. After a 18-handle decline last Friday the markets could not have looked worse, but the SPZ closed 6.5 handles higher on Monday and 13.2 handles higher yesterday.
Polarized Congress
Recently the markets have been fixated on the election, and now that it is over the government is going to have to work hard to appease the people of the U.S. and the G20 as the fiscal cliff approaches. President Obama's re-election win does not mean all the problems have been solved. With only 54 days left in the year, Congress and the president need to come up with a plan fast. Last night the ESZ sold off down to 1411 (down 14.25 handles), then rallied off the lows as Obama was called the winner and took back most of the losses when Romney conceded. Democrats also retained control of the Senate but still have to deal with a divided Congress.
Wall Street's negative view
Many traders we talk to on the trading floor of the CME Group and Wall Street have said they think there is a need for a change from the status quo. Over the last several months business confidence has fallen sharply and you can see it in the corporate earnings and in the tech sector that has been selling off for weeks now. On the trading floor of the CME, S&P index volumes have slipped again. Over the last few days many desks have seen their volume drop by over 60%.
Fiscal cliff
If there is no action by Congress by Jan. 1, 2013, the Bush-era tax cuts will expire and the automatic spending cuts will kick in. Yesterday House Speaker John Boehner said voters made it very clear that there is no mandate for higher taxes because they kept the Republicans in control of the House of Representatives. Many think that the re-election of Obama is only going to make things worse and that the probability of of going off the fiscal cliff went up and that the outlook for the stock market is going to turn very negative.
My personal view
Yesterday many readers thought that I favored another four years of Obama. For those of you that wanted Obama to win, I hate to tell you, but that was not what I tried to express. I know Wall Street favored Obama in 2008. Back then I did not favor him but I knew that people were looking for change; they did not get it. Over three months ago I did a tour on the floor of the CME for a group of nearly 50 people and I told the group that Obama would win because people are too scared to change. The average age of the group was the early 40s to mid-60s. I knew back then that when it came down to it people are still scared. The damage and the ongoing problems from the credit crisis have never gone away and for many American they prefered to stick with the status quo, they were just too scared to change. I knew that Wall Street had made a shift too. They favored Romney because of his approach to retaining the cuts and that Obama favored raising taxes for the richest Americans and increasing capital gains and dividend taxes. I know the markets did not want Obama and that and that the market will not react well to higher taxes during such a fragile time for the economy, but the American people spoke last night. Do I like that? No, I don't, but as a street guy I take things as they come.
I have dedicated myself to working harder in 2013 and I am sure Mr. Obama is going to make sure of that …
Danny Riley is a 34-year veteran of the trading floor of the CME Group.
Our view:
If you have not noticed, the dollar has been going down for a full week in anticipation of an Obama win. The win means that the president will be able to continue his monetary stimulus policy, which will weaken the U.S. dollar. In the past this has meant higher prices in the stock market, but with so many things to fix we could be in for a rough ride. I have to admit that it has not been easy trying to call the markets over the last month or so. When the SPZ was above 1460-1465 it looked like it was going to 1475-1485. When it sold off down to 1400 it looked like it was going to 1385, and it has not done either. Despite all the goings-on it still looks like the S&P futures want to go higher; the question is for how long. I want to get down to the floor and try and get a handle on the price action before jumping in. As always, please keep an eye on the 10-handle rule and please use stops. You get to live another day …
It's 7:00 a.m. and the ESZ is down 9.5 handles at 1424, crude oil is down 1.26 at 87.45 and the EC is trading 1.22761, down 60 ticks.
In Asia 8 of 11 markets closed higher (Shanghai Comp. -0.01%, Hang Seng +0.71%)
In Europe 10 out of 12 markets are trading higher (CAC +0.70%, DAX +0.60%)
Today's headline: "Obama Wins; Stocks and Bonds Rally."
Economic calendar: Today: Weekly mortgage apps, oil inventories, 10-yr note auction, consumer credit, Coach shareholders mtg, Oracle shareholders mtg; earnings from Macy's, Sodastream, Qualcomm, Activision Blizzard, CBS, Monster Beverage, Whole Foods. THURSDAY: International trade, jobless claims, 30-yr bond auction, Kellogg analyst day, 3M investor mtg, OPEC press conference; earnings from Dean Foods, Wendy's, Disney, Groupon, Nordstrom, Nvidia, Kayak, Zipcar. FRIDAY: Import/export prices, consumer sentiment, wholesale trade; earnings from JCPenney
VOLUME: 1.48mil ESZ and 6k SPZ traded
SPREADS: 116 SPZ/H spreads traded
FAIR VALUE: S&P -9.75, NASDAQ -22
MrTopStep Closing Print Video:http://www.mrtopstep.com/mrtopstep-closing-print-video-11-6-2012/
YOU WANT A LOOK AT WHAT OUR TRADERS SEE EVERY DAY? SIGN UP FOR THE IM TRIAL AT http://mrtopstep.com/free/ IT'S THE REAL DEAL!
_____________________________________________________
Follow us on Twitter @MrTopStep http://twitter.com/mrtopstep
Sign up for our free mailing list at http://mrtopstep.com/ for full report.
DISCLAIMER: The information and data in the following report(s) were obtained from sources considered reliable. Opinions, market data, and recommendations are subject to change at any time. Their accuracy or completeness is not guaranteed and the giving of the same is not to be deemed as an offer or solicitation on our part with respect to the sale or purchase of any commodities or securities. MrTopStep, its officers, directors and its contributors may. in the normal course of business, have position(s) which may or may not agree with the opinions expressed in this report.
The following article is from one of our external contributors. It does not represent the opinion of Benzinga and has not been edited.
Posted-In: News Forex Global Economics Markets Trading Ideas
View Comments and Join the Discussion!