Suzuki Motor Company Ends Car Sales in U.S.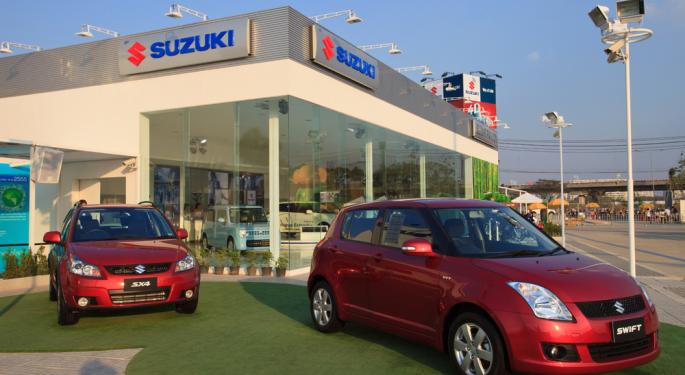 Suzuki Motor (OTC: SZKMY) has announced that it will wind down its passenger car sales in the United States and concentrate instead on sales of motorcycles, ATVs and marine outboard motors. Suzuki's U.S. distributor, American Suzuki Motor Corporation, has filed for Chapter 11 bankruptcy in California and will sell substantially all of its assets not related to passenger cars to another Suzuki group company, NounCo, according to Bloomberg.
According to NHK, Japan's government-owned broadcasting company, Suzuki Motor's U.S. passenger car sales peaked at 102,000 units in 2007 but fell precipitously following the financial crisis of 2008. Last year, Suzuki sold only 27,000 units in the U.S.
Suzuki had been selling four passenger car models in the United States of which three were imported from Japan, according to NHK. The prolonged strength of the yen made it impossible for Suzuki to be competitive in the U.S. market and the company's line-up was too limited and its sales volume too small to warrant further investment in its U.S. dealer network according to a company statement cited by Motor Trend on its website.
American Suzuki Motor said that it would continue to honor its warranties and provide parts to its automotive customers through the existing dealer network.
Suzuki Motor is one of the largest passenger car manufacturers in India, through its joint venture with Maruti Motor, Maruti Suzuki India. The Hindu Business Line reports, "There will not be any impact to the Indian subsidiary of Suzuki Motor Corporation (SMC) as none of the cars that is manufactured by Maruti Suzuki India (MSIL) is exported to the US."
Business Line continued, "The Indian manufacturing units at Manesar and Gurgaon in Haryana exports to European countries, West Asia, Africa, Indonesia and Latin America, an MSIL spokesperson told Business Line…'We have never touched the US market because specifications are very different from other markets,' the spokesperson said."
America Suzuki Motor Corporation had net debt of about $113 million according to court documents cited by Bloomberg. The company's largest unsecured creditor is American Suzuki Financial Services, which is owed $891,000.
Posted-In: News Global Best of Benzinga
View Comments and Join the Discussion!