Will U.S.-Listed Chinese Solar Shares Rally After WTO Complaint?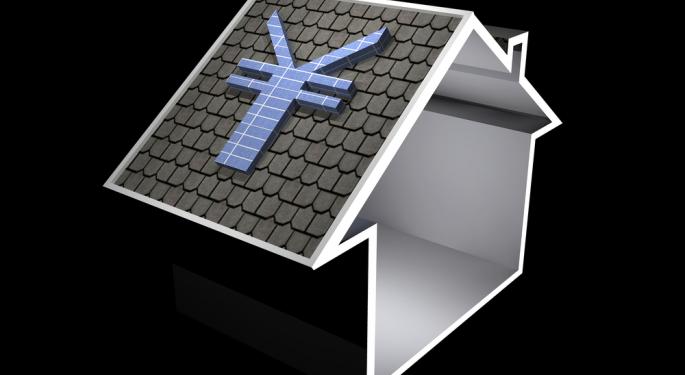 The Chinese government filed a complaint against the European Union (EU) with the World Trade Organization (WTO), alleging that European countries provide unfair subsidies to European solar panel manufacturers, restricting access to the European market by Chinese solar panel companies.
The Wall Street Journal wrote, "China is complaining that power generated in Europe that uses solar-energy components made in the EU receives a subsidy. In a statement on its website on Monday, China's Ministry of Commerce said EU subsidies have affected China's solar exports and violated China's rights as a WTO member."
Although the complaint did not cite any specific companies, it did contend that EU members Italy and Greece provide subsidies to photovoltaic installations only if the components are manufactured in Europe. "Every nation should take a long-term view and strengthen cooperation in the industry, be open to the international trade, and avoid protectionism," a Chinese Commerce Ministry spokesman said in a statement cited by The Wall Street Journal.
On Friday, November 2, the Chinese Ministry of Commerce also launched an investigation into the dumping by EU manufacturers of solar grade polysilicon used to make solar cells. The Chinese government is clearly taking an aggressive stance toward protecting its solar panel industry and its access to the European market.
Chinese solar panel makers have been charged with unfair trade practices by both the EU and the United States. According to The Wall Street Journal, the EU began an investigation into whether Chinese companies are selling solar panels at unfairly low prices in Europe.
Back in May, the U.S. found Chinese companies guilty of dumping solar panels in the United States and imposed a 31 percent tariff on solar panel imports from China. Tomorrow the U.S. International Trade Commission (ITC) will vote on whether Chinese dumping has harmed the American solar panel industry. If the ITC finds that there has been harm done, punitive tariffs of up to 250 percent will be imposed on Chinese solar panels, according to the AP.
The major issue in the global solar panel market has been falling prices. According to Bloomberg, "Trade disputes are escalating as the solar industry struggles with a supply glut and shrinking profits. The global average spot price of polysilicon in the week beginning Oct. 22 dropped to a record of $18.3 a kilogram…"
What does this mean for Suntech Power Holdings (NYSE: STP), Trina Solar (NYSE: TSL) and the other U.S.-listed Chinese solar panel makers?
Clearly, a vote tomorrow by the ITC in favor of imposing punitive tariffs of up to 250 percent would not be good for business.The average anti-dumping tariff that would be imposed if the ITC finds that the U.S. solar industry has been harmed is 31.73 percent for Suntech Power, 18.32 percent for Trina, 25.96 percent for LDK Solar (NYSE: LDK) and JA Solar Holdings (Nasdaq: JASO) and 15.42 percent for Yingli Green Energy (NYSE: YGE). In addition, countervailing duties of between 14.78 percent and 15.97 percent will be imposed, according to Solar PV Investor.
But the issue is that there are too many solar panel makers and not enough demand for solar panels. Global pricing remains below average production cost.
The Chinese solar panel makers are preparing for a possible ITC vote against them by assembling panels using solar cells manufactured outside of China, which would be exempt from the punitive tariffs. Hanwha SolarOne (Nasdaq: HSOL) is using this strategy after its parent company, Hanwha Holdings, purchased bankrupt German solar cell maker, Q Cells, which makes solar cells at a plant in Malaysia. Rene Sola (NYSE: SOL) is following a similar strategy, only shipping panels made with non-Chinese solar cells to the U.S. market.
Would a finding against Chinese solar panel makers help U.S. companies First Solar (FSLR) and SunPower Corporation (Nasdaq: SPWR)? While it may ease some of the downward pressure on solar panel prices in the U.S., both companies still need to cut costs as both continue to look overseas, particularly to Asia, for future growth. American companies will compete with the Chinese head-on in these markets.
The outlook for the solar panel industry, regardless of where it is based, depends upon increasing demand. In all of the hubbub over the presidential election, don't overlook the ITC vote on solar panel tariffs tomorrow.
Posted-In: News Wall Street Journal Global Media Best of Benzinga
View Comments and Join the Discussion!