Can Disney's 'Wreck-It Ralph' Make $200 Million?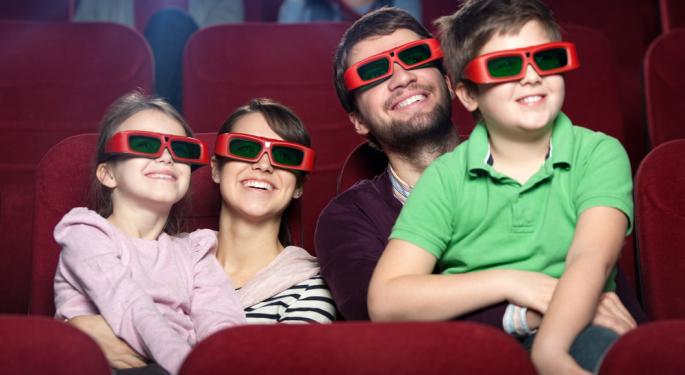 Wreck-It Ralph has achieved the biggest opening weekend of any Disney (NYSE: DIS) animated film, earning a domestic draw of 49.1 million. According to Box Office Mojo, the film earned more than Chicken Little, A Christmas Carol, Bolt and other Disney films excluding those that were produced by Pixar.
Wreck-It Ralph also made more than Tangled, the 2010 animated hit that grossed $200 million domestically and more than $590 million worldwide. However, Tangled opened on a Wednesday. That makes it difficult to compare its three-day earnings to other Disney films.
Nonetheless, Wreck-It Ralph -- which tells the comedic story of a video game bad guy who wants to turn his life around -- is already a hit for Disney. The film's opening weekend estimate is on track to beat many of DreamWorks Animation's (NYSE: DWA) holiday films, including Megamind, Puss in Boots and Bee Movie.
According to CinemaScore (a market research firm that measures movie appeal), moviegoers have given Wreck-It Ralph an "A" rating. Flight, which also opened last weekend, received an "A-" rating, while The Man with the Iron Fists received a "C+."
New York Times film critic A. O. Scott said that the secret to Wreck-It Ralph's success is a "genuine enthusiasm for the creative potential of games, a willingness to take them seriously without descending into nerdy pomposity."
"I am delighted to surrender my cynicism, at least until I've used up today's supply of quarters," he quipped in his review.
Internet Movie Database users have given Wreck-It Ralph an average score of 8.4 out of 10. Ninety-four percent of Rotten Tomatoes readers say that they liked the film.
Critical acclaim and user praise are not enough to boost a film's profits, but when mixed with positive word-of-mouth and an effective marketing campaign, it can lead to box office gold.
Wreck-It Ralph opened on more screens than Tangled (3,752 versus 3,603) and both films earned more than $13,000 per screen. Comparatively, Bolt earned just over $7,000 per screen during its opening weekend. Chicken Little earned nearly $11,000 per screen.
Considering the similar patterns of Tangled (which also earned acclaim from IMDb and Rotten Tomatoes readers, as well as critics) and Wreck-It Ralph, it appears that Disney has another $200 million hit on its hands.
The real deciding factor could be in how much the studio continues to advertise the film now that it has been released. Contrary to popular belief, post-release advertising is an important part of a film's marketing campaign. Ads are an effective way to remind moviegoers that a film is now in theaters. They encourage repeat viewings and help to build the brand for years to come. Disney could be happy with its near-$50 million earnings and quietly walk away. But it would be wiser to keep promoting the film to increase its chances of making $200 million.
Follow me @LouisBedigianBZ
Posted-In: disney Wreck-It RalphNews Success Stories Tech Best of Benzinga
View Comments and Join the Discussion!