NBC, eBay Hacked for November 5 Remembrance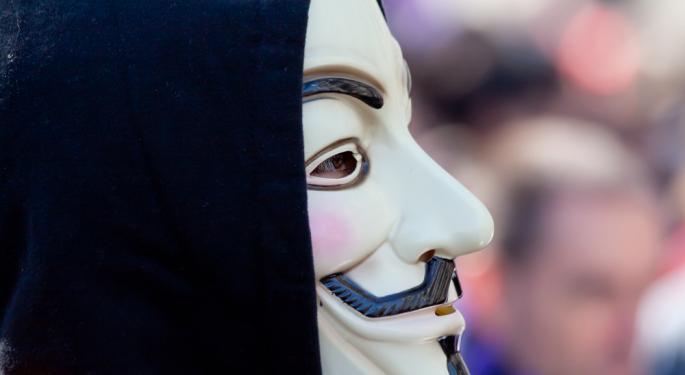 While Americans anxiously await election day, computer hackers have deemed it necessary to disrupt popular domains such as Comcast's (NASDAQ: CMCSA) NBC sites and eBay's (NASDAQ: EBAY) PayPal payment source. Although those to blame have yet to be found, the hackers in question are seemingly on a mission to remind everyone that November 5 is a day of protest and reflection.
So why the sudden urge to interfere with these popular sites? It appears that the reason reaches back centuries ago, as Guy Fawkes Day (November 5) has become a day of celebration in Britain. Fawkes attempted to murder King James I and parliament in 1605, yet his "Gunpowder Plot" failed.
While there is no current proof that PayPal has been affected, the group assumed to be at fault -- 'Anonymous' -- tweeted that it hacked the site, releasing almost 28,000 PayPal user's email addresses, passwords and names. However, it appears that this could just be a scare tactic as the online payment company has yet to discover any issues.
"We're investigating this but to date we have been unable to find any evidence that validates this claim," PayPal tweeted at The Next Web on Sunday.
According to SCNow.com, Comcast's hacked sites have since been restored. However, over the weekend, several NBC pages read, "Remember, remember the fifth of November."
Likely a part of the same 'Anonymous' group, hacker 'pyknic' is at fault for the disruption of websites such as Saturday Night Live and Late Night with Jimmy Fallon. Also included in the hack job was one of pop sensation Lady Gaga's fan sites.
Wearing Guy Fawkes masks in order to maintain public anonymity, the hackers have made it a point to remind the online world about their inspiration. The 'Anonymous' group has indicated that it plans to hack Zynga (NASDAQ: ZNGA) and release the company's games for free, while also threatening to attack Facebook's (NASDAQ: FB) user privacy, according to Food World News.
"Conclusively determining responsibility for such attacks can be nearly impossible," The Associated Press reported.
As companies brace themselves for potential hacks throughout the rest of the day, it appears unlikely that the 'Anonymous' participants will ever have to pay the consequence for inconveniencing millions of web users.
Posted-In: Late Night with Jimmy Fallon NBC PayPal Saturday Night LiveNews Topics Tech General Best of Benzinga
View Comments and Join the Discussion!