Looking at the Employment Cost Index: Is Cost Control Limiting Growth?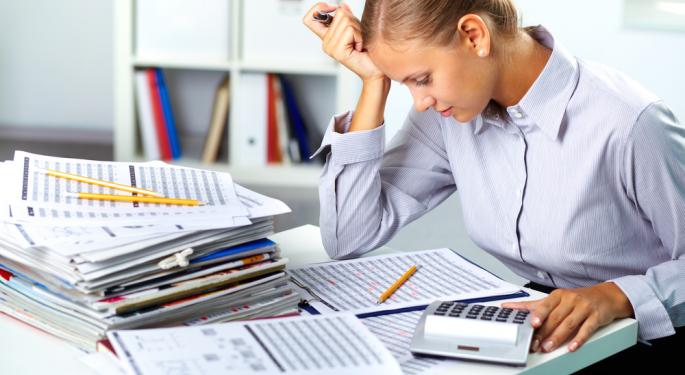 The Employment Cost Report details how much more employers are paying for both wages and benefits. This data indicates whether employers are facing higher employment costs in order to staff their businesses -- a measure of the balance between supply and demand for labor. When unemployment is high, labor cost increases tend to be constrained. Examining the cost growth of labor -- which, on average, is roughly two-thirds of the average company's cost structure -- can shed some light on the size and direction of employers' profit margins. It can also indicate the potential spending power of employees.
The trend for most of this earnings season has been for companies to meet or exceed profit expectations, but miss on revenues. Companies have kept their costs under control, but their revenues depend on the willingness of their customers to keep their own expenditures contained.
However, it is a bit of a circular logic: In order for businesses' customers to have more cash to spend, companies need to pay their workers a bit more. However, in order to maintain profit margins in an era of sluggish sales, costs -- particularly wages -- must be be kept in check. This is one factor holding back the economy: the lack of wage and salary growth.
Looking at compensation costs, expenses for civilian workers increased 0.4%, seasonally adjusted, in the third quarter, according to the U.S. Bureau of Labor Statistics. (These figures are not annualized.) Wages and salaries (which make up about 70% of compensation costs) increased 0.3%, and benefits (which make up the remaining 30% of compensation) increased 0.8%.
Compensation costs for civilian workers increased 2.0% for the 12-month period ending September 2012, the same amount of cost increases as a year ago. Wages and salaries increased 1.7% for the current 12-month period, essentially unchanged from a year ago when wages and salaries increased 1.6%. Benefit costs increased 2.6% for the 12-month period ending September 2012, down from the September 2011 increase, which was 3.2%.
How does this compare to inflation? Driven by higher energy costs, the Consumer Price Index headline measure of inflation advanced by 1.2% (not annualized) in the third quarter, compared to the 0.3% gain in wage and salary costs noted above. Going back over the past 12 months, the index for all items advanced 2.0% in September, greater than the 1.7% increase in wages and salaries component of labor costs seen in today's report.
The fact that businesses have kept their wage and salary cost growth less than overall inflation (though benefit costs make up some of the difference) suggests two things: The first is that companies have been able to apply the benefits of increased productivity to their bottom line, rather than sharing them with workers. In a more typical relationship, productivity gains allow companies both to give their employees pay raises and to increase their profits at the same time. After all, higher productivity can allow companies to generate the same amount of sales with fewer employee-hours on the job. (Thursday will bring data on productivity.)
The second takeaway from Wednesday's report is that consumers, in aggregate, will have trouble increasing spending unless their incomes grow at a faster rate than inflation. When companies control costs to such an extent, the feedback loop is such that one company's cost controls becomes another company's missed revenue targets. Escaping this trap is essential to power the economy's growth, but until there is less "uncertainty," it may take some time.
Posted-In: News Econ #s Economics Markets Trading Ideas Best of Benzinga
View Comments and Join the Discussion!