Christopher R. Hansen's Valiant Capital Adds Facebook To Its Portfolio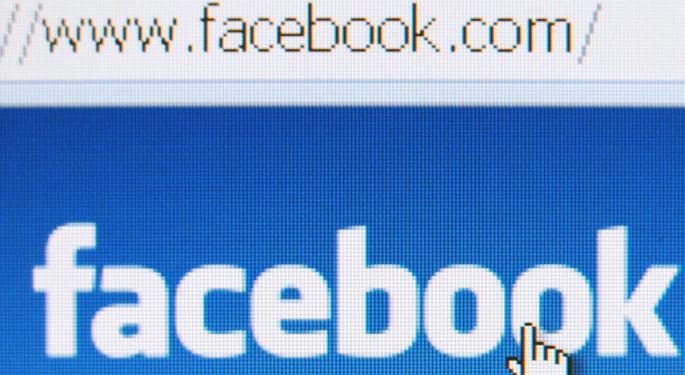 Christopher R. Hansen's Valiant Capital Management, a San Francisco-based long/short equity Hedge Fund, filed a SEC form 13F revealing the newly acquired stocks, additions, reductions, and sold-out stakes. The $2.7 billion hedge fund was founded by Christopher R. Hansen in early 2008.
Valiant Capital biggest investment is Apple Inc. (NASDAQ: AAPL), whereby the iPhone maker represents 15.34 percent of the overall assets value of Assets under management. Search Engine giant Google Inc. (NASDAQ: GOOG) accounts for 9.72 percent while Liberty Global Inc. (NASDAQ: LBTYA) came in third with 9.08 percent.
The hedge fund has nearly 70% of its assets invested in the Technology sector, while the top ten holdings account for more than 80 percent.
New Buys
Valiant Capital also revealed that it acquired 3.37 percent in Facebook Inc. (NASDAQ: FB), the social networking company becoming yet another technology sector stock addition to Christopher R. Hansen's portfolio. The social media giant has already lost nearly half of the market value as per the IPO price, but several analysts have price targets as high as $37.
Sold Out
The long/short equity hedge fund also offloaded some of its stakes, including a sold out stake in DIRECTV (NASDAQ: DTV). Hansen sold the whole of his stake in the media and entertainment company triggering a 3.27 percent change in the overall portfolio.
Other Activity
VeriSign Inc. (NASDAQ: VRSN) saw a slight addition, while Fomento Economico Mexicano (NYSE: FMX) was reduced slightly to 5.53 percent from 5.88 percent reported in June.
Christopher R. Hansen also likes Visa Inc. (NYSE: V) with 5.62 percent, QualComm Inc. (NASDAQ: QCOM) at 5.28 percent and the Chinese-based search engine giant Baidu Inc. (NASDAQ: BIDU) representing 5.51 percent in the portfolio, among others.
Posted-In: News Hedge Funds After-Hours Center Markets General
View Comments and Join the Discussion!